Published on 13.07.2017
Last updated on 24.05.2022
ActiVin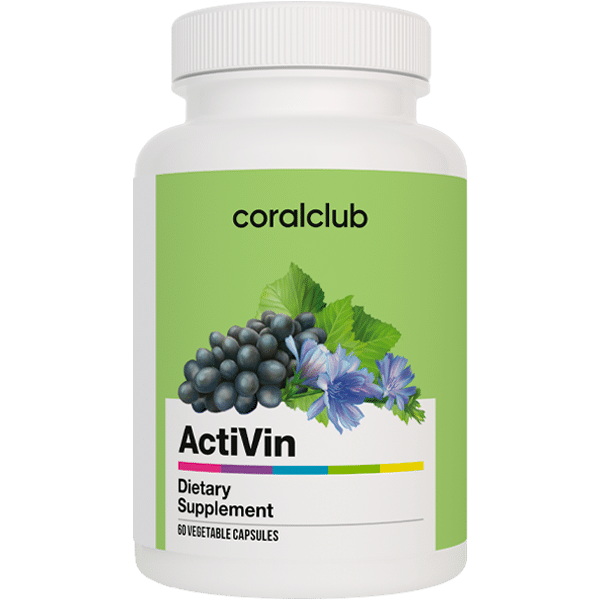 The biologically active complex ActiVin includes a number of natural antioxidants that bind free radicals; thereby slowing down the aging process and increasing your body's energy levels, improving endurance; and stabilizing the life support systems of the body.
Benefits of ActiVin
Improve the tone of the body;
Improve the function of the circulatory system;
Slow down aging;
Improve memory;
Improve endurance and speed up the healing processes.
The action of the active ingredients
Inulin-polysaccharide is composed of fructose, which is a unique sugar whose cellular combustion produces large amounts of energy needed for the human life. In addition, it ensures the absorption of nutrients by activating its own microflora.
ActiVin (an extract of grape seeds) has a record-high content of natural antioxidants binding free radicals and suppressing oxidation reactions. Grape seed extract also acts as a cardio-protector by strengthening the blood vessel walls; improving circulation, and the overall tone of the body. It is 15 times as effective as vitamin E, which helps correct age-related changes. The active ingredients of the extract revitalize the brain by saturating the brain cells with oxygen.
Royal jelly is a highly nutritious product with an extremely varied range of biological effects on the various aspects of the metabolism. In the middle ages it was given the name Royal jelly as it was extremely difficult to extract and store and only very affluent people could afford to use it. Royal jelly is a biologically active stimulator and a means of strengthening the body as a whole.
Vitamins C and E are antioxidants that participate in the synthesis of proteins and increase muscle tone, improving the overall vitality of the body.
Extracts of Ginkgo Biloba leaves, green tea and thistle seeds boast an extremely high content of vitamins and flavonoids (natural antioxidants), which means that they have a very positive effect on blood vessels. Flavonoids strengthen capillary walls, activate the oxidation processes in the tissues, and magnify the effect of ascorbic acid.
Ingredients
Inulin, ActiVin, Vitamin C, Zinc (L-Methionine), MuiraPuama (Liriosmaovata) root, Eleutherococcus Senticosus root, Vitamin E, Dunaliellasalina, Coral powder, Royal Jelly (Bees Milk), Selenium (L-SelenoMethionine), Milk Thistle (Silybummarianum) seed, Ginkgo Biloba leaf, Green Tea leaf, Molybdenum (Sodium Molybdate), Manganese (aspartate), Chromium (picolinate), Copper (citrate), other ingredients
How to use
Take one capsule two times daily with meals. If lifestyle is associated with high costs of energy consumed two capsules twice a day with meals.
How to buy ActiVin?
Acquisition of products is possible using a special discount card.
Registration of discount card
Please carefully read the terms of registration using the referral link:
Clicking this link, you confirm your desire to join Coral Club in Liga Rymer's structure, who becomes your consultant/sponsor;
By clicking on this link, you confirm your desire to receive information about the company's products, the concept of health of its application and the principles of the company's work in English.
I agree
Registration form
After registration, you receive the number of the discount card, which will give you a 20% discount (for an unlimited period of time) for all products, purchasing in one of the Coral Club stores or on the Internet.
You can contact us, if you have any questions.
DIETARY SUPPLEMENTS IS NOT INTENDED TO DIAGNOSE, TREAT, CURE, OR PREVENT ANY DISEASE.