Published on 19.06.2022
Last updated on 19.06.2022
CircuPhyt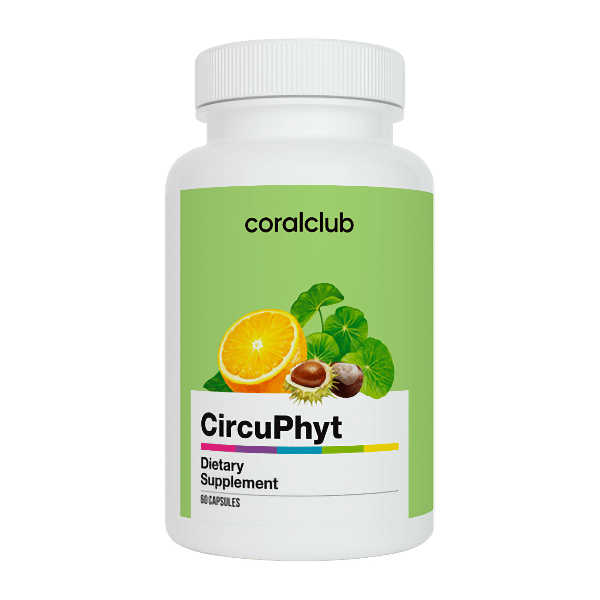 CircuPhyt is a complex of herbal venotonics created to alleviate the feeling of heaviness and fatigue in the legs. It's designed to help strengthen blood vessel walls to prevent blood stagnation and improve lymphatic flow.
Benefits of CircuPhyt
CircuPhyt has a revitalizing effect:
Prevents varicose veins;
Improves microcirculation;
Reduces inflammation in the blood vessels.
The action of the active ingredients
Diosmin
Diosmin is a bioflavonoid derived from citrus fruits. It helps improve venous tone and elasticity.
Horse Chestnut Seed Extract
It helps to prevent inflammation in small and large blood vessels.
Hawthorn Berry Extract
It includes antioxidant flavonoids that may help dilate blood vessels and improve blood circulation.
Gotu Kola & Gingko Biloba Leaf Extracts
These extracts are natural vascular protectors and may help regulate blood flow in the heart, brain, and lower extremities.
Blueberry Fruit Extract
It helps maintain the strength and integrity of veins and capillaries.
Ingredients
Diosmine (from Hesperidin) 250 mg
Gotu kola (Centella asiatica) whole plant extract 100 mg
Horse Chestnut (Aesculus hippocastanum) seed extract 100 mg
Blueberry (Vaccinium corymbosum) fruit extract 100 mg
Hawthorn (Crataegus pinnatifida) berry extract 60 mg
Ginkgo (Ginkgo biloba) leaf extract 40 mg
How to use
Take one capsule before mid-afternoon with a meal, or as recommended by your health care practitioner.
Country of production
USA
How to buy CircuPhyt?
Acquisition of products is possible using a special discount card.
Registration of discount card
Please carefully read the terms of registration using the referral link:
Clicking this link, you confirm your desire to join Coral Club in Liga Rymer's structure, who becomes your consultant/sponsor;
By clicking on this link, you confirm your desire to receive information about the company's products, the concept of health of its application and the principles of the company's work in English.
I agree
Registration form
After registration, you receive the number of the discount card, which will give you a 20% discount (for an unlimited period of time) for all products, purchasing in one of the Coral Club stores or on the Internet.
You can contact us for the consultation.
DIETARY SUPPLEMENTS IS NOT INTENDED TO DIAGNOSE, TREAT, CURE, OR PREVENT ANY DISEASE.