Published on 04.07.2017
Last updated on 13.03.2023
Body cream "Cool Relief"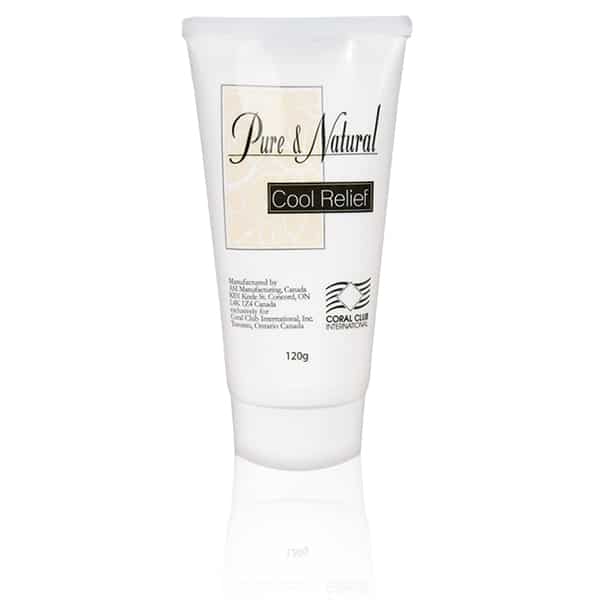 Cool Relief helps with muscle strain, injury, sciatica, osteochondrosis, various myalgias, and joint problems. The cream warms the muscles, eliminates pain and stiffness. It formulated specifically for fast and effective recovery, and has a strong analgesic and anti-inflammatory effect, it stimulates metabolic processes improving the mobility of the musculoskeletal system. Its unique fatty base (natural emu oil) deeply penetrating the skin, provides a high bioavailability of the active ingredients to the damaged tissues.
The action of the active ingredients
Camphor: improves blood circulation and has a warming and tonic effect, normalizes the vascular tone, relaxes muscles, and reduces pain.
Menthol: irritating the muscle nerve endings, provides analgetic and cooling effect; helps blood to flow and calms the injured area.
Emu Oil is known for its anti-inflammatory effect for muscle and joint pain, it reduces inflammation, swelling and stiffness of joints, and relieves muscle tension.
MSM is actively involved in the formation of collagen and keratin, the main building proteins of connective tissue and cartilage that support joint flexibility and mobility. It reduces inflammation caused by oxidative stress, and promotes the regeneration of damaged cells and the growth of new cells of cartilage and ligaments.
Glucosamine Sulfate is a major component of intra-articular fluid, which provides "lubrication" of the joints reducing friction and cartilage wear. It stimulates the production of chondroitin to strengthen osteochondral tissue. By restoring the enzymatic processes in the joint cartilage, it protects against damage and inflammation.
Boswellia (Boswellia serrata) gum extract has an anti-inflammatory effect, helps to improve the joint health and improves the blood circulation. Boswellia is called the "fighter against inflammation". Active components of Boswellia, boswellic acids, slow down the inflammation of the connective tissues, reduce swelling of joints, strengthen and promote the repair of damaged blood vessels.
Sea-buckthorn (Hippophae rhamnoides) extract stimulates the metabolic processes in the skin, increasing its vitality being a source of a unique complex of active ingredients. It is one of the best sources of vitamins A, C, and E.
Ingredients
Purfied Water, Menthol, Camphora, Emu Oil, Emulsifying Wax NF, Glyceryl stearate, Methylsulfonylmethane (MSM); Oryza sativa (Rice) Bran Oil, Glucosamine Sulphate, Olibanum (Boswellia Serrata) Gum; Hippophae rhamnoides (Seabuckthorn) Extract, Eugenia Caryophyllus (Clove) Leaf Oil; Eucalyptus Globulus (Eucalyptus) Leaf Oil, Mentha Viridis (Spearmint) Leaf Oil; Mentha Arvensis (Cornmint) Oil, Phenoxyethanol, other ingredients.
How to buy Body cream "Cool Relief"?
Acquisition of products is possible using a special discount card.
Registration of discount card
Please carefully read the terms of registration using the referral link:
Clicking this link, you confirm your desire to join Coral Club in Liga Rymer's structure, who becomes your consultant/sponsor;
By clicking on this link, you confirm your desire to receive information about the company's products, the concept of health of its application and the principles of the company's work in English.
I agree
Registration form
After registration, you receive the number of the discount card, which will give you a 20% discount (for an unlimited period of time) for all products, purchasing in one of the Coral Club stores or on the Internet.
You can contact us, if you have any questions.
DIETARY SUPPLEMENTS IS NOT INTENDED TO DIAGNOSE, TREAT, CURE, OR PREVENT ANY DISEASE.