Published on 11.07.2017
Last updated on 04.06.2022
Coral Cat`s Claw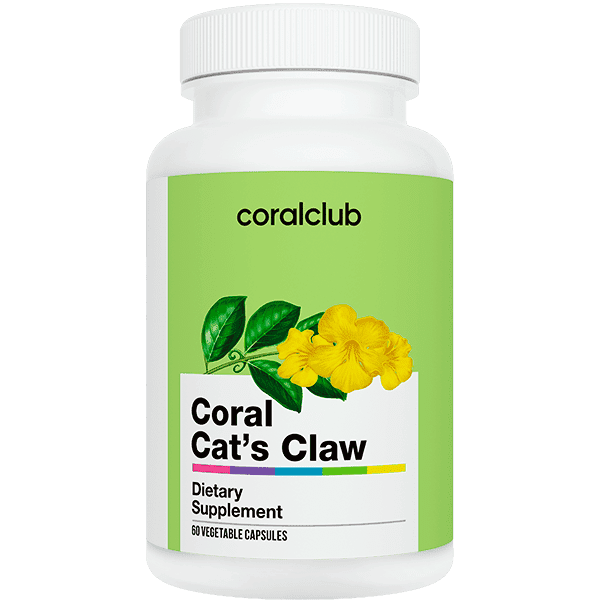 Coral Cat`s Claw is an effective herbal supplement that boosts an immune response and supports overall tone. All ingredients of the product (cat`s claw, burdock root and green tea) have a general revitalizing effect and are indispensable in taking care of exhaustion, general weakness, and lack of energy.
Benefits of Coral Cat`s Claw
The supplement boosts immunity and has tonic properties.
It is an antioxidant and has a detoxifying effect.
This supplement contributes to strengthen capillaries and improve vascular tone.
It restores natural defense mechanisms and boosts energy.
The action of the active ingredients
Peruvian liana
The Peruvian liana has a number of unique properties. It grows in the mountains and rain forests of Latin America. The natives of Peru call it "cat`s claw" for a reason. Its stem is studded with small spines resembling the claws of a cat. It is with these spines that it clings to the trunks and branches of trees.
It was discovered in 1974 by Dr. Keplinger and since then it has quickly found its way from the Amazon jungle to pharmacies all around the world. The Peruvian liana is the only plant in its group that has a powerful immunity boosting effect, thanks to a number of powerful ingredients. These act in concert to activate the function of T-lymphocytes and T killer cells which destroy alien particles, bacteria, dead or dying cells, and suppress the reproduction of viruses in the cell. They also normalize the blood serum level of particles responsible for the humoral immune response, improving blood rheology, preventing the aggregation of platelets, and reducing the risk of blood clotting in the vessels. In addition, coral cat`s claw also strengthens the capillaries and improves the vascular tone.
Green tea
Connoisseurs of Chinese culture believe that the delicate aroma of green tea improves the mood, reinvigorates, and prolongs life. Green tea is one of the healthiest drinks in existence as it is choke full of vitamins, antioxidants, minerals, essential oils, and amino acids. Vitamin P protects blood vessels against damage by free radicals, making them more elastic and flexible and preventing the oxidation of cells, which slows down ageing. At the same time tea catechins inhibit a wide range of viruses and bacteria.
Burdock
There is not much consideration given to Burdock however it`s very popular in traditional medicine. The root of the plant is especially valuable as it contains lots of biologically active ingredients, such as polysaccharides, salts of chromium, iron, phosphorus, magnesium, sodium, potassium, copper, linoleic, oleic, stearic and palmitic acids, and essential oils. All of these produce a very powerful antiseptic and antimicrobial effect, while also reducing inflammation and allergies.
Ingredients
Cat`s Claw extract 300 mg. Burdock root extract 100 mg. Green Tea extract 100 mg.
How to use
Take one capsules two time a day with a meal.
How to buy Coral Cat`s Claw?
Acquisition of products is possible using a special discount card.
Registration of discount card
Please carefully read the terms of registration using the referral link:
Clicking this link, you confirm your desire to join Coral Club in Liga Rymer's structure, who becomes your consultant/sponsor;
By clicking on this link, you confirm your desire to receive information about the company's products, the concept of health of its application and the principles of the company's work in English.
I agree
Registration form
After registration, you receive the number of the discount card, which will give you a 20% discount (for an unlimited period of time) for all products, purchasing in one of the Coral Club stores or on the Internet.
You can contact us, if you have any questions.
DIETARY SUPPLEMENTS IS NOT INTENDED TO DIAGNOSE, TREAT, CURE, OR PREVENT ANY DISEASE.