Published on 18.01.2023
Last updated on 18.01.2023
DHA+D3 Smart Chews – a product to support the proper developmentof a growing body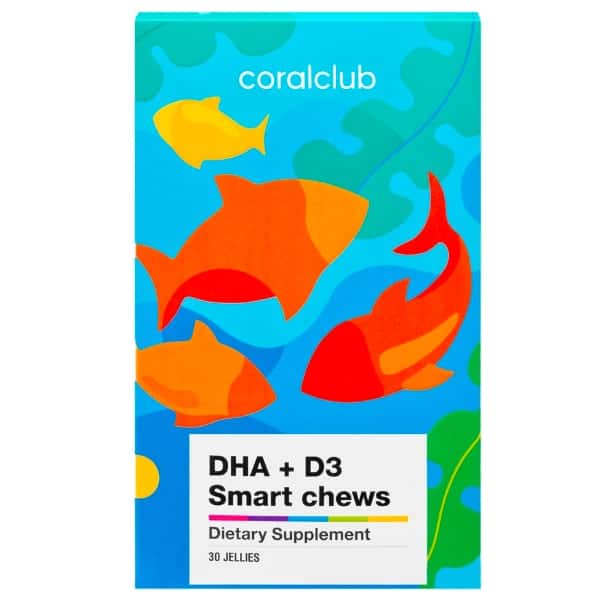 A child's healthy development is dependent on many factors: trusting family relationships, upbringing, the sports they play, the hobbies they take on, their social life and, of course, a balanced diet.
A healthy diet for a growing body should include carbohydrates, proteins, and healthy fats with enough omega-3 PUFAs.
The importance of Omega-3
What we know about omega-3 PUFAs?
They are structural components of cell membranes;
They play a role in the formation of children's organs and systems even before birth;
They are "indispensable", since they can be obtained largely through food.
Why are ALA, EPA, and DHA so important to the body?
contribute to the normal functioning of the cardiovascular system;
support the healthy development of the brain and nervous system;
contribute to the development of cognitive functions: memory, logical thinking, concentration;
are necessary for the health of hair, skin and teeth;
activate the body's immune system;
improve mood, reduce anxiety.
DHA in omega-3 is important for the proper development of children's bodies.
From the first days of life, DHA supports: the vision organs, the immunesystem, the brain, the nervoussystem and heart.
Research confirms that DHA omega-3 promotes:
development of cognitive abilities and memory;
better behavior;
improved performance at school.
DHA omega-3 deficiency in children leads to:
attention deficit and hyperactivity disorder;
vision problemsand dry eyes;
a weakenedimmune system;
reducedintellectual abilities;
allergies.
Fast food, chips, candy — many children love eating simple carbohydrates and «bad fats» but are more reluctant to try healthy foods. To maintain adequate levels of omega-3 DHA, you need to give your child fatty saltwater fish and vegetable oils on a regular basis. However, it is not an easy task to get your young one to eat such "unappetizing" foods.
Not all fish contain high levels of omega-3 DHA. DHA omega-3 is synthesized by marine zooplankton and microalgae that feed on small and then large fish. So DHA omega-3 migrates up the food chain, ending up in the meat of tuna, mackerel, marine salmon or any other cold-water marine fish.
Unfortunately, farm-raised fish are predominantly on the market. The DHA omega-3 content of "aquaculture" salmon, for example, is almost 100% dependent on how much DHA omega-3 is (or is not) added to the compound feed.
Knowing the important biological role of omega-3 DHA and the extent of its deficiency in the modern diet, a Coral Club have created a unique product. It will supplement a child's nutritionally imbalanced diet with essential nutrients.
The DHA+D3 Smart Chews made from highly purified anchovy fish oil with ConCordix technology, which increases the ingredient bioavailability by 44%. DHA+D3 Smart Chews are a simple and effective way to supplement your child's diet with essential nutrients as well as to maintain their health and overall well-being.
Benefits of DHA+D3 Smart Chews
Support intellectual development;
Improve memory, attention span, and academic performance;
Preserve strong vision;
Help children become more balanced;
Support growth and the proper development of bones and teeth;
Strengthen immunity.
Perfect for children who:
are quickly growing and developing;
are learning new information and are always busy with various clubs and activities;
have learning difficulties;
are hyperactive and restless;
love candy and junk food and don't like eating healthy foods;
are often sick or ill.
ConCordix technology
The ConCordix system has been successfully used to recreate the natural distribution of fat in fish, whereby the mass of fish oil is broken up into many individual, highly fragmented droplets isolated from one another. Such distribution of fish oil in gelatin gum, significantly increases the assimilation of its active substances, and prevents premature oxidation and adhesion of fat droplets.
ConCordix technology increases bioavailability of fat-soluble nutrients by 44%*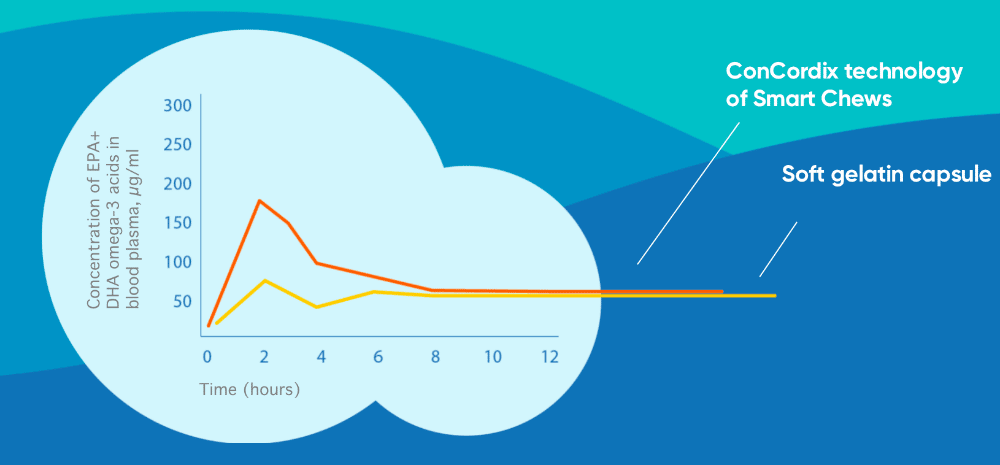 *for fat-soluble substances compared with conventional gel capsules.
Among the product's ingredients are plant-based sweeteners (sorbitol & xylitol), which reduce the risks associated with tooth decay and weight problems.
The action of the active ingredients
DHA (docosahexaenoic acid) and EPA (eicosapentaenoic acid)
The fat of cold-water fish is a natural (and virtually the only) source of healthy omega-3 PUFAs (EPA and DHA), which are essential for healthy growth and development of children. The human body cannot synthesize these nutrients on its own, so they can only be obtained from food or supplements.
The gray matter of the brain and the retina contain the highest concentrations of DHA, so it plays a key role in brain and vision development and health.
Studies of DHA properties have shown that during childhood and adolescence this nutrient helps children learn information better and more easily, to be better at learning, it corrects hyperactivity and plays a role in the formation of the body's vision-assiciated functions. A sufficient amount of DHA in childhood largely determines health and social success in adulthood. EPA contributes to a positive emotions and mood.
Vitamin D3
It is essential for normal bone growth and development, improving sleep quality, improving mood and also for a well-functioning immune system in children.
Ingredients
Fish oil 720 mg.
Omega-3 PUFA 432 mg.
DHA (docosahexaenoic acid) 360 mg (as in 74 g of free-range steamed salmon).
EPA (eicosapentaenoic acid) 72mg.
Vitamin D3 12 µg (15 mcg/day is the recommended level of vitamin D3 intake for children 1-17 years old according to the European Food and Safety Authority).
How to use
Children over 4 years of age and adults 1 tablet a day with meals.
Note: In order to avoid excessive vitamin D3 intake when combined with products containing vitamin D3 (Assimilator, D-Spray, D-Spray 2000, Ultimate Max, Ca-Mg Complex, Prenatal+, Yummy Vits) the total amount of this vitamin to be ingested from several products should be calculated in advance. The same applies to the combined intake with products containing omega-3 PUFAs (Omega 3/60, Visi-Prime, Prenatal+, Shark Liver Oil, Omega 3 Orange).
Country of production
Norway
How to buy DHA+D3 Smart Chews?
Acquisition of products is possible using a special discount card.
Registration of discount card
Please carefully read the terms of registration using the referral link:
Clicking this link, you confirm your desire to join Coral Club in Liga Rymer-Jonikane's structure, who becomes your consultant/sponsor;
By clicking on this link, you confirm your desire to receive information about the company's products, the concept of health of its application and the principles of the company's work in English.
I agree
Registration form
After registration, you receive the number of the discount card, which will give you a 20% discount (for an unlimited period of time) for all products, purchasing in one of the Coral Club stores or on the Internet.
You can contact us for the consultation.
DIETARY SUPPLEMENTS IS NOT INTENDED TO DIAGNOSE, TREAT, CURE, OR PREVENT ANY DISEASE.