Published on 09.07.2017
Last updated on 05.06.2022
Evening Formula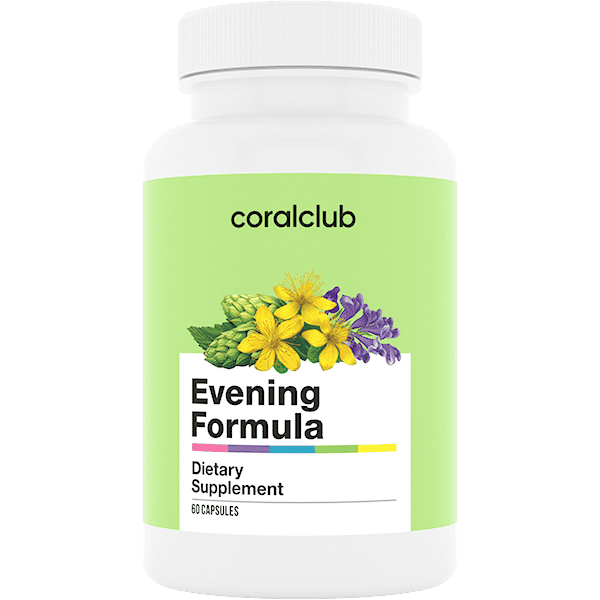 Evening Formula is a dietary supplement that helps cope with stress, depression and normalize sleep pattern. The ingredients of Evening Formula are carefully selected to go beyond protecting nervous system from the consequences of stress. They also work to improve mood and act as a general tonic.
Benefits of Evening Formula
Normalizes the emotional state.
Relieves symptoms of depression and chronic fatigue.
Helps cope with stress and increases stamina.
Improves general condition and acts as a general tonic.
Helps fight insomnia and Improves mood.
The action of the active ingredients
Flavonoids of Melissa, St. John's Wort, Skullcap and Hops have significant sedative and antidepressant properties. These normalizing sleep plants are effective in eliminating insomnia and have a beneficial effect on overall health.
Extracted from tea leaves amino acid Theanine and biogenic element magnesium normalize blood pressure and promote cardiac health. These ingredients protect from stress, relieve anxiety and symptoms of depression. They increase stamina and performance. In addition, Theanine has psychostimulant effect. Unlike caffeine it does not cause overstimulation of the nervous system, but rather has a sedative effect by relieving anxiety and improving concentration.
How to use
Take one capsule once a day in the afternoon with a meal.
How to buy Evening Formula?
Acquisition of products is possible using a special discount card.
Registration of discount card
Please carefully read the terms of registration using the referral link:
Clicking this link, you confirm your desire to join Coral Club in Liga Rymer's structure, who becomes your consultant/sponsor;
By clicking on this link, you confirm your desire to receive information about the company's products, the concept of health of its application and the principles of the company's work in English.
I agree
Registration form
After registration, you receive the number of the discount card, which will give you a 20% discount (for an unlimited period of time) for all products, purchasing in one of the Coral Club stores or on the Internet.
You can contact us, if you have any questions.
DIETARY SUPPLEMENTS IS NOT INTENDED TO DIAGNOSE, TREAT, CURE, OR PREVENT ANY DISEASE.