Published on 10.04.2018
Last updated on 15.11.2018
Gotu Kola Extract is a natural product based on the famous Madagascar plant whose name translates as memory herb. Gotu Kola strengthens blood vessel walls, increases their elasticity, has a positive effect on capillary blood flow, stimulates cerebral blood flow, thought processes, memory, and the cardiovascular system.
Benefits
Gotu Kola can help people suffering from:
A buildup of plaque;
Memory impairment;
Vegetative-vascular dystonia;
Varicose veins;
Chronic fatigue, nervousness, and depression.
The action of the active ingredients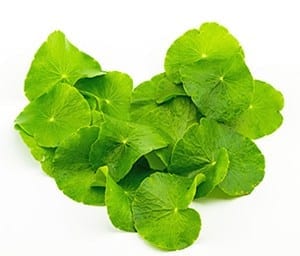 Gotu Kola optimizes the condition of the cardiovascular system, improves the supply of oxygen to the brain, which improves memory, concentration, and the function of the visual analyzer. The active ingredients of the herb improve mental capacity, speed up thought processes, improve recall, reduce headaches; calm the central nervous system in tense situations, alleviate nervousness, and sleep disorders. They also reduce fatigue. Furthermore, Gotu Kola positively impacts on some blood components, and stabilizes the hemoglobin level and blood sugar.
Triterpenoid saponins found in the herb participate in the formation of collagen and improve the elasticity of blood vessel walls helping the body to heal better and creating an additional detoxication effect by stimulating the function of the cytochromes to ensure the purging of toxins and medications from the body.
Flavonoids improve venal blood flow and also have a cardio-tonic and anti-arrhythmia effect. When the cardiovascular system is under increased
stress (stress, physical or mental strain), they improve its stability and enhance blood flow by expanding the coronary arteries that bring more oxygen rich blood to the heart muscle without increasing blood pressure or changing the excitability of the myocardium. They also positively affect the lymph and venal system, which not only restores normal blood flow, but also helps regenerate the lymph nodes. Positive side effects include normalized lymph flow, improved lymph drainage, and reduced permeability of capillaries.
Glycosides regulate the heart muscle and are effective as treatment for heart failure caused by hypertension (too much strain on the myocardium), as well as in cardio sclerosis and damage to the heart valves.
Ingredients
Gotu Kola extract (Centella asiatica) 120 mg, other ingredients.
How to use
Take 1 capsule x2 per day, with meals.
How to buy a Gotu Kola Extract?
Acquisition of products is possible using a special discount card.
Registration of discount card
Please carefully read the terms of registration using the referral link:
Clicking on this link, you confirm your desire to join the Coral Club in structure Aiga Finstere, which becomes your Referee/consultant;
By clicking on this link, you confirm your desire to receive information about the company's products, the concept of health of its application and the principles of the company's work in English.
I agree
Registration form
After registration, you receive the number of the discount card, which will give you a 20% discount (for an unlimited period of time) for all products, purchasing in one of the Coral Club stores or on the Internet.
You can contact us, if you have any questions.