Published on 10.07.2017
Last updated on 22.01.2023
H-500 (the true fuel of life)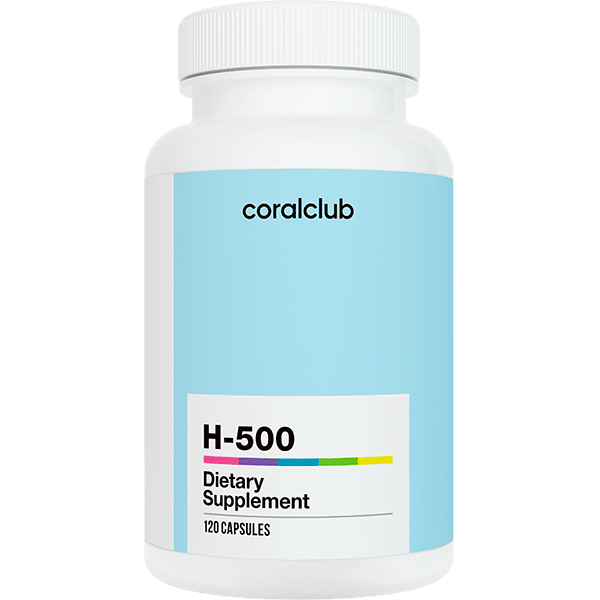 H-500 is the latest breakthrough in antioxidant power. Providing protection from free radicals this product helps to restore the body's functionality. Thanks to H-500 you will forget about the problem of premature aging and feeling of unwell-being.
Benefits of H-500
Neutralizes free radicals. What does this mean? Stops the aging process. Therefore prevents oxidation of healthy cells!
Restores a favorable alkaline environment in the body;
Improves cell nutrition and metabolism;
Synthesizes ATP, providing the body with energy;
Increases nutrient absorption at the cellular level by 3 times;
Reduces lactic acid levels in the blood by 50%!
Increases mental capacity;
Improves your reaction time
Restores performance;
Helps to heal fractures and break bad habits!
The action of the active ingredients
H-500 is the source of vital force, endurance, physical and mental capacity for work.
H-500 enhances endurance during any physical activities, sport exercises and hard work. Both the buildup of lactic acids and consequent recovery times will be greatly reduced when using H-500. With such positive effect, the product can recommend to people doing intellectual or laborious jobs, sportsmen and activity-lovers as it helps to endure overwork, to ease-up overstrain, to increase muscles tone and elasticity.
This product increases the body's energy potential by stimulating the production of cell energy, which formed by breaking up of protein and carbohydrate food. This is very important for your overall health, normal physical and mental functionality. The product improves metabolism and helps to resist many unfavorable factors.
H-500 prevents oxidation of healthy cells and restores favorable alkaline environment contributing to improvement of cells nutrition and metabolism.
Ingredients
Magnesium citrate, Potassium Citrate, Potassium ascorbate, Silicon dioxide, Sodium Borate.
How to use
1 capsule 1 time per day on an empty stomach. You can gradually increase your intake to 1-2 capsules 2 times a day. Be sure to drink a glass of water, preferably Coral-Mine.
Also, for the best result, it recommended dissolving the content of a capsule in 1 glass of drinking water with Coral-Mine.
Robert Thiedemann – creator of a product
How to buy H-500?
Acquisition of products is possible using a special discount card.
Registration of discount card
Please carefully read the terms of registration using the referral link:
Clicking this link, you confirm your desire to join Coral Club in Liga Rymer's structure, who becomes your consultant/sponsor;
By clicking on this link, you confirm your desire to receive information about the company's products, the concept of health of its application and the principles of the company's work in English.
I agree
Registration form
After registration, you receive the number of the discount card, which will give you a 20% discount (for an unlimited period of time) for all products, purchasing in one of the Coral Club stores or on the Internet.
You can contact us, if you have any questions.
DIETARY SUPPLEMENTS IS NOT INTENDED TO DIAGNOSE, TREAT, CURE, OR PREVENT ANY DISEASE.