Published on 11.07.2017
Last updated on 02.06.2022
LymFlow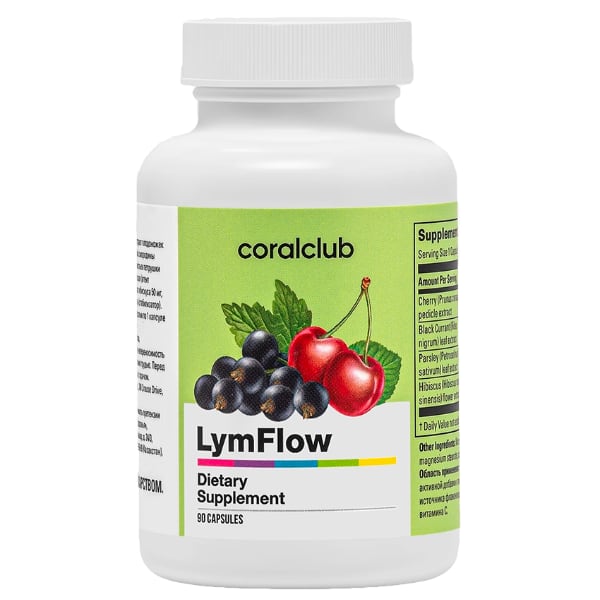 The "LymFlow" helps improve lymph circulation and promotes health of lymphatic system. In addition, LymFlow boosts elimination of toxins and excess fluid from the body. This supplement helps strengthen an immune system and improves overall health.
Benefits of LymFlow
LymFlow – the guarantor of health and natural protection of vessels:
Optimizes lymphatic drainage and vascular blood flow;
Supports elasticity and strength of vessels;
Reduces vascular inflammation.
The action of the active ingredients
Cherry
This juicy and unusually fragrant fruit brought to Europe by the Roman commander Lukullom from the ancient Turkish city of Kerasunda. As it turned out, not only the pulp of cherries is useful; but also leaves and stem, which contain lemon and apple acids, coumarins, plant pigments, tannins, vitamins C, B1, B6, PP1, many minerals, pectins. It noted that the extract of peduncles cherry enhances the circulation of intercellular fluid or lymph; thus providing drainage of vessels and contributing to the removal of excess fluid and slag. Present in the cherry coumarins reduce blood clotting, preventing the formation of blood clots; and P-vitamin active substances and flavonoids contribute to the strengthening of vessels, increase their tone.
Blackcurrant leaves
Blackcurrant (leaves and fruits) – activates lymphatic drainage of the heart muscle and liver. The leaves of blackcurrant contain vitamin C, volatile, magnesium, mar-seeker, silver, copper, sulfur, essential oil. The extract of blackcurrant leaves also contributes to the removal of excess purine and uric acid from the body.
Parsey
Beloved by many parsley saturated with useful substances-it is essential oil, glycosides, vitamins, flavonoids. So, pinene, apiol and apigenin purify vessels, improving their condition, strengthen lymphatic drainage. Parsley is rich in ascorbic acid (vitamin C), which together with other active substances of the plant supports the elasticity of small and large vessels. In addition, the myristicin present in the leaves has a strong anti-inflammatory and analgesic effect.
Hibiscus
Hibiscus Chinese is valued in Asia and far beyond its borders as a tonic and tonic means. The composition of the bioactive substances of Hibiscus is diverse: it is anthocyanins, and proanthocyanidins, organic (apple, Lemon, hibiscus) and phenol carbonic acids. It is revealed, that polyphenols and protocatechuic acid neutralize toxic products of life of pathogenic microbes, left by the last on walls of vessels. The extract of flowers also has excellent antioxidant properties, prevents thinning and damage of vascular tissues.
Ingredients
Extract Peduncles Cherry 150 mg, extract of blackcurrant leaves 150 mg, extract leaves Parsley 75 mg, extract hibiscus flowers 50 mg, auxiliary components.
How to use
For adults one capsule three times a day at meal times.
How to buy LymFlow?
Acquisition of products is possible using a special discount card.
Registration of discount card
Please carefully read the terms of registration using the referral link:
Clicking this link, you confirm your desire to join Coral Club in Liga Rymer's structure, who becomes your consultant/sponsor;
By clicking on this link, you confirm your desire to receive information about the company's products, the concept of health of its application and the principles of the company's work in English.
I agree
Registration form
After registration, you receive the number of the discount card, which will give you a 20% discount (for an unlimited period of time) for all products, purchasing in one of the Coral Club stores or on the Internet.
You can contact us, if you have any questions.
DIETARY SUPPLEMENTS IS NOT INTENDED TO DIAGNOSE, TREAT, CURE, OR PREVENT ANY DISEASE.