Published on 12.07.2017
Last updated on 05.06.2022
MSM (Source of sulfur)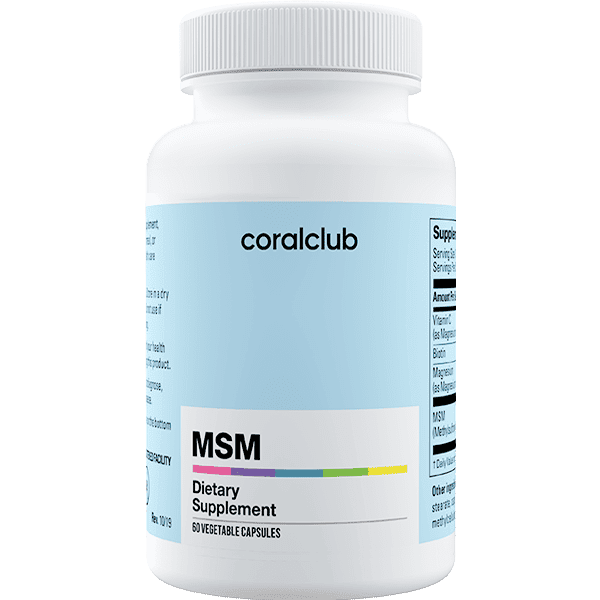 MSM-based product bioavailable organic sulfur in combination with vitamin beauty biotin and vitamin C. This product is extremely important for the preservation of beauty, juvenility, active and most importantly, mobile life.
Benefits of MSM
Improves skin, hair and nails;
Supports health of joints and cartilage;
A product that is based on a bioavailable form of organosulfur in a complex with biotin (the beauty vitamin) and vitamin C;
Contributes to synthesis of connective tissue proteins;
It provides antioxidant protection.
And is the custodian of your natural beauty!
The action of the active ingredients
Methylsulfonylmethane (MSM) is a source of a bioavailable form of organosulfur. Sulfur is a structural component of the main biomolecules: proteins, including proteins of the immune system, enzymes and hormones. Sulfur is a part of keratin, which is a key structural component of the skin, hair and nails. It is also sulfur that takes part in the formation of the main proteins of connective tissue (collagen and elastin).
Biotin is a vitamin of youthfulness and beauty that helps to maintain optimal amounts of keratin in the body, improves hair and skin, prevents early ageing and strengthens nails. It helps to normalize the functioning of oil glands.
Vitamin C is essential for synthesis of collagen and elastin. It helps to prevent premature ageing and has an antioxidant effect.
Ingredients
Methylsulfonylmethane (MSM) 750 mg, Vitamin C 50 mg, Biotin 50 mcg.
How to use
1 capsule 2 times a day with meals.
How to buy MSM?
Acquisition of products is possible using a special discount card.
Registration of discount card
Please carefully read the terms of registration using the referral link:
Clicking this link, you confirm your desire to join Coral Club in Liga Rymer's structure, who becomes your consultant/sponsor;
By clicking on this link, you confirm your desire to receive information about the company's products, the concept of health of its application and the principles of the company's work in English.
I agree
Registration form
After registration, you receive the number of the discount card, which will give you a 20% discount (for an unlimited period of time) for all products, purchasing in one of the Coral Club stores or on the Internet.
You can contact us, if you have any questions.
DIETARY SUPPLEMENTS IS NOT INTENDED TO DIAGNOSE, TREAT, CURE, OR PREVENT ANY DISEASE.