Published on 14.05.2020
Last updated on 30.09.2022
Nutripack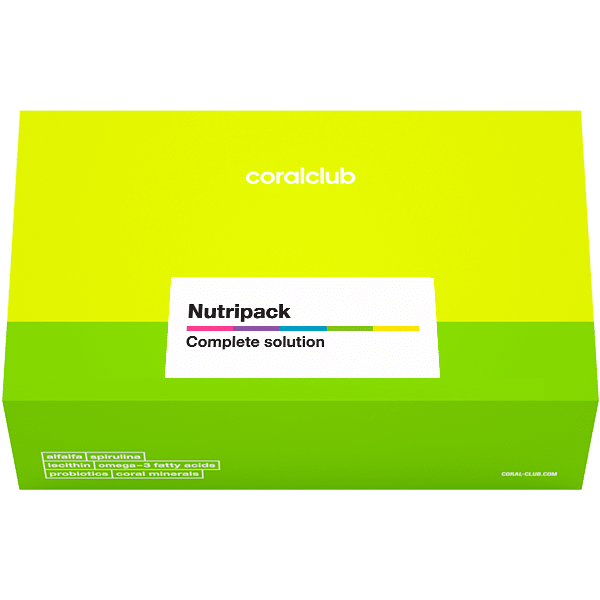 NutriPack – food supplements of valuable natural origin. Helps with the absorbtion of important nutrients which body needs for normal cardiovascular, neural, digestive and immune systems; helps to normalise metabolism and regenerative processes in the body.
Benefits of NutriPack
Contains a lot of deficient nutrients for nutrient optimization
Balanced composition of natural active ingredients
Source of valuable nutrients that are rarely finded in food (phycocyanin, gamma-linoleic acid and gamma-linolenic acid)
High bioavailability of natural components
Complex action components
Phytonutrients – to supplement vitamin deficiency
Minerals – to regulate the water-salt balance
Probiotics and fiber – to improve gut microbiome
Phospholipids and PUFAs – to boost body's natural defenses
Active components
Coral Lucerne – a source of fiber, vitamins and minerals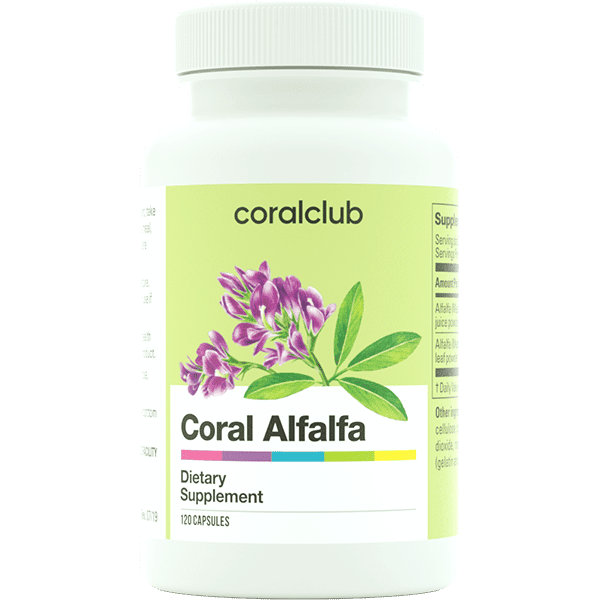 Lucerne – a plant with a strong developed root system, which penetrates deep into the ground (up to 10 meters). This is one of the few plants that contain fluoride of natural origin, which is important for dental health. Lucerne is very rich in vitamins (vitamin A, carotenoids, tocopherols – vitamins of group E, vitamins K, D, B1, B2, B12), organic acids and chlorophyll. Helps in cases of hypovitaminosis, stomach diseases, high cholesterol, gently improves kidney function.
Contains all essential amino acids. No less interesting is the mineral composition of the grass – here is calcium, silicon, phosphorus, magnesium and iron.
Lucerne has a strengthening, cleansing, controlling blood sugar and "bad" cholesterol levels, improves metabolism and optimizes the digestive system.
Royal Lucerne contains not only herbal powder, but also vegetable juice, which increase the nutritional value of the product.
Premium Spirulina – a rare antioxidant and plant protein source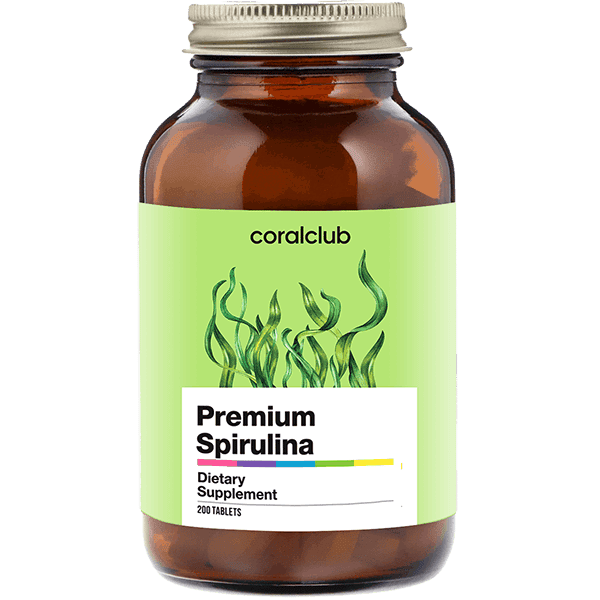 Spirulina is an algae rich in B vitamins, beta-carotene and minerals, including calcium, iron, magnesium, manganese, potassium and zinc. It also contains gamma-linolenic acid (GLA) and vegetable protein, which is assimilated much better than meat protein.
Spirulina contains phycocyanin, a rare, natural nutrient, a pigment that has been shown to have strong antioxidant, anti-inflammatory and anti-tumor properties.
The daily dose of Premium Spirulina provides more than 150% of the corresponding amount of phycocyanin, more than 30% of natural beta-carotene and about 30% of chlorophyll.
Super-Flora
A balanced combination of probiotics (bifido and lactobacillus) and the prebiotic inulin;
Restores normal intestinal microflora;
Improves digestion and absorption of nutrients.
Superflora is a balanced combination of probiotics that are a natural component of human gut microflora: lactobacillus (Lactobacillus acidophilus), bifidobacteria (Bifidobacterium longum) and probiotic inulin to increase the number of own beneficial bacteria and restore gut microflora.
Coral Lecithin – a source of cell "building" material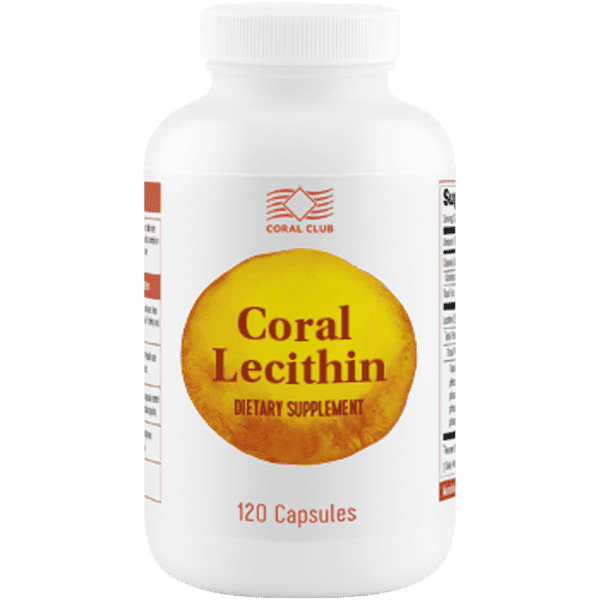 Lecithin is a source of phospholipids. Phospholipids are the main building material of all cell membranes. The cell membrane requires a constant influx of phospholipids to "repair" damaged areas. Phospholipids also stimulate enzyme activity and participate in cell differentiation, division and regeneration.
Lecithin is also a precursor to choline, which improves metabolic processes in nerve tissue and brain cells. It is necessary for the body throughout life.
Health and eating habits do not always allow you to get a daily dose of lecithin from food (for example, you should eat 12 large, natural domestic chicken eggs).
Omega 3/60 – a source of essential fatty acids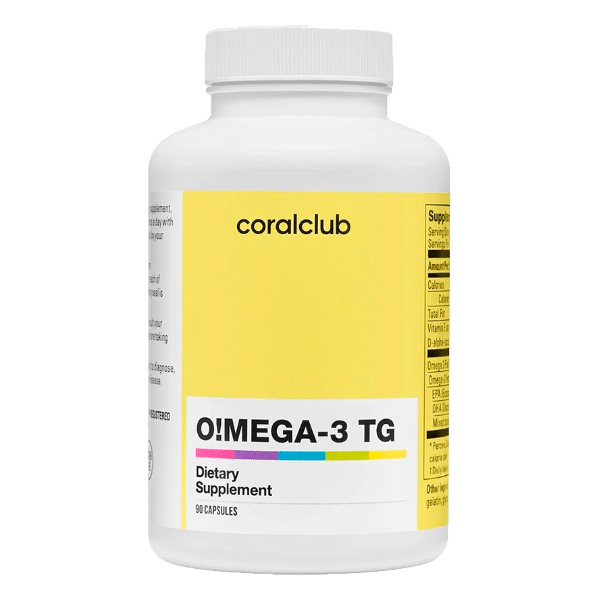 PUFAs (omega-3 polyunsaturated fatty acids) are essential nutrients. They do not form in the body themselves and must be taken with food. The brain has the greatest need for omega-3 PUFAs (70% of the human brain is made up of fats and a third of these fats are fatty acids), eyes, heart and blood vessels, as well as the skin. PUFA is involved in the synthesis of hormones that help lower cholesterol.
PUFA is a component of the structure of all cell membranes.
The main source of omega-3 PUFA in our diet is marine fish of natural origin.
Coral-Mine – a source of valuable minerals from the Sea of Japan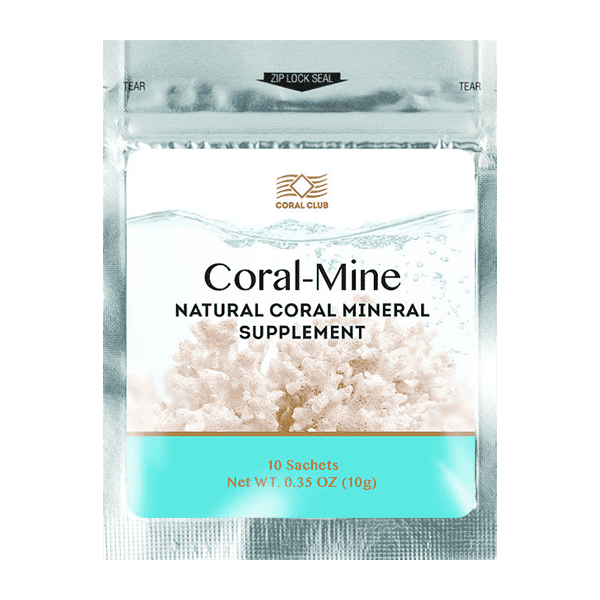 Water is one of the three necessary conditions for the existence of the human body (along with air and food). High-quality, purified water with a balanced mineral composition is a condition for proper hydration of the body, maintaining the acid-base and water-salt balance.
Coral-Mine is a mineral composition obtained near the Japanese island of Okinawa, also known as the long-lived island. It contains large amounts of marine minerals (Ca, Mg, K, Na, Fe, S, Si, B, Cr, Mn, Zn, etc.), increases the physiological usefulness of water and thus maintains the mineral balance in organs and tissues.
Coral-Mine: 30-40 ml of water per 1 kg of body weight (per day). Water preparation instructions.
NutriPack contains
Coral Lucerne (120 capsules), Premium Spirulina (200 tablets), Coral Lecithin (120 capsules), Omega 3/60 (30 capsules), B-Kurunga (90 tablets), Coral-Main – 3 packs (30 sachets).
How to use NutriPack
Read the instructions inside the package before usage. Program has been made for 30-day usage.
How to buy NutriPack?
Acquisition of products is possible using a special discount card.
Registration of discount card
Please carefully read the terms of registration using the referral link:
Clicking this link, you confirm your desire to join Coral Club in Liga Rymer's structure, who becomes your consultant/sponsor;
By clicking on this link, you confirm your desire to receive information about the company's products, the concept of health of its application and the principles of the company's work in English.
I agree
Registration form
After registration, you receive the number of the discount card, which will give you a 20% discount (for an unlimited period of time) for all products, purchasing in one of the Coral Club stores or on the Internet.
You can contact us for the consultation.
DIETARY SUPPLEMENTS IS NOT INTENDED TO DIAGNOSE, TREAT, CURE, OR PREVENT ANY DISEASE.