Published on 20.04.2023
Last updated on 20.04.2023
O!Mega-3 TG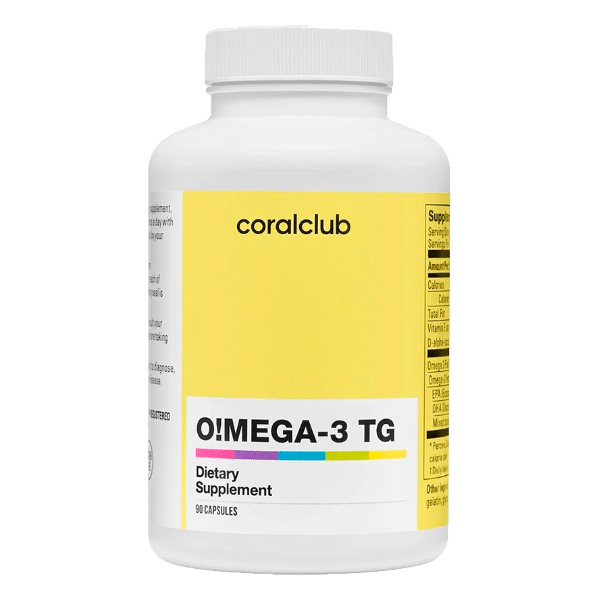 Omega-3 unsaturated fatty acids help support body functions and organ systems. They help reduce inflammation, promote cardiovascular health, improve brain function, and strengthen the immune and nervous systems. Essential polyunsaturated fatty acids omega-3 are not synthesized in the human body, so it is very important to get them from food to maintain normal function of the cardiovascular system.
Omega-3 unsaturated fatty acids are found in fish oil, flaxseed oil and some vegetable oils. But most store shelves are stocked with farm-raised fish. The EPA and DHA content of "aquaculture" salmon, for example, is almost 100% dependent on how much EPA and DHA is (or is not) added to the compound feed.
What do we know about polyunsaturated fatty acids?
The studies have shown that our diet is almost 80% deficient in omega 3 polyunsaturated fatty acids [PUSFAs]. By increasing the consumption of fish oil, we can reduce the risk of cardiovascular disorders to the maximum extent. It has been proven that cholesterol (the main culprit responsible for the development of a buildup of plaque in the blood of people taking fish oil is maintained at a low level because polyunsaturated fatty acids introduced into the body compete with cholesterol and removes it from blood circulation.
The main function of PUSFAs is their participation in the production of phospholipids for cellular membranes and in the synthesis of eicosanoids; the tissue hormones that control the local cellular and tissue functions including inflammatory responses; vasoconstriction and vasodilatation, and functions of platelets, leukocytes, and erythrocytes.
Omega-3 PUSFAs prevent damage to the endothelium and are the structural constituents of cells of the immune, nervous, and cardiovascular systems, and of the eye retina; they participate in the formation of these organ systems and ensure their optimal functioning.
The deficiency of omega-3 PUSFAs, particularly eicosapentaenoic (EPA) and docosahexaenoic (DHA) acids, is one of the causes of a buildup of plaque and associated diseases, such as ischemic disorders and Alzheimer`s disease.
EPA and DHA omega-3 support:
Helps stabilize blood pressure;
Promotes performance of the visual organs;
Supports intellectual development;
Normalizes emotional stability;
Promotes a stronger immunity system;
Helps support your skin.
In most countries of the world,people don't consume enough EPA and DHA. Deficiency of EPA and DHA can lead to:
Increased heart disease risk;
Impaired vision and dry eyes;
Cognitive decline and depression risk;
Weakened immune system function;
Skin issues and premature aging.
Even those who eat fish regularly may be deficient in EPA and DHA.
Only cold-water saltwater fishare rich in EPA and DHA: herring, salmon, cod, mackerel, tuna, sardines, anchovies.
Artificially farmed fish typically contain low levels of EPA and DHA due to the inadequate amount of omega-3 in industrial feeds.
Research of omega-3 deficiency
In 2016, a large-scale review was first published indicating that adults in most regions of the world have "low" or "very low" levels of omega-3 PUFAs – especially eicosapentaenoic acid (EPA) and docosahexaenoic acid (DHA). Based on an analysis of 298 studies, a map showing EPA and DHA levels in the bloodstream of healthy adults around the world was created.
Regions with high levels of EPA and DHA were found mainly in countries near the Sea of Japan (Japan, South Korea and the Primorsky region of Russia) and Scandinavia (Denmark, Norway and Greenland).Moderate levels of EPA and DHA were observed in northern Canada, Chile, Iceland, Finland, Sweden, Tunisia, Hong Kong, Mongolia, and French Polynesia.
Low levels of EPA and DHA were recorded in: Europe (Belgium, Czech Republic, France, Germany, Scotland, Spain, Netherlands), Middle Eastern countries (Israel), Asia (China, Russia, and Singapore), Oceania (Australia and New Zealand),Africa (South Africa and Tanzania).
Very low levels of EPA and DHA were detected in the blood of residents: North America (Canada and the United States), Central and South America (Guatemala and Brazil), Europe (Ireland, UK, Italy, Greece, Serbia and Turkey), Middle East (Iran and Bahrain), South-East Asia (India) Africa (Kenya).
It was not possible to find studies for all countries that met the criteria for inclusion in the analysis. However, based on data from neighboring countries, scientists suggest that the levels of EPA and DHA in the blood of the population of Eastern Europe and Central Asia are most likely to be from "low" to "very low.
A plunge into the deep world of the omega…
In order to maximize the benefits of EPA and DHA for the body, there have been methods developed to enhance the CONCENTRATION of omega-3 PUFAs.

How to obtain high concentrations of EPA and DHA
To create a dietary supplement with a high concentration of omega-3, first the fat is separated from the fish stock. Then the different fatty acid compounds are converted and the EPA and DHA are extracted to create an enriched product through transesterification.
The Reconstituted Triglyceride Form of Omega-3 is Structurally Similar to its Natural Form. Thus, it is more recognizable to the body and is easier for digestive enzymes to process. This is particularly significant for individuals who are beginning to take omega-3 PUFA supplements for the first time.
By blending innovation with the finest health care practices, Coral Club developed O!Mega-3 TG – a product that offers efficient support for heart, vascular, and vision health.
Benefits of O!Mega-3 TG
Supports heart, vascular, and vision health;
Helps strengthens the immune and nervous systems;
Promotes healthier skin condition;
Helps support a healthier overall lifestyle.
O!Mega-3 TG is perfect for those who want to:
improve staminaand performance;
better cope withhigh levels of mental stress;
maintain a healthy heartand blood vessels;
preserve sharp vision;
take care of their nervous system;
prevent catching a cold during the cold season.
O!Mega-3 TG: Triglyceride form restored
Increased concentration of EPA and DHA in the product;
A form close to the natural one.
The fish oil used to produce this product is extracted from cold-water ocean fish species, such as: anchovies, sardines, mackerel, tuna.
O!Mega-3 TG productionfrom sunny Spain: high-quality and safe
This product is manufactured in a production facility that adheres to the international GMP standard.
The raw materials are processed using Flutex™ technology, which does not require the use of toxic organic solvents or high temperatures.
Ingredients
Contents of active ingredients in 1 capsule
Fish oil – 1000 mg
OMEGA-3 — 650 mg, including:

EPA — 360 mg (As in ~92 grams of free-rangesteamed salmon);
DHA — 240 mg (As in ~ 201 grams of free-rangesteamed salmon).

Vitamin E (D-alpha-tocopherol) 6.71 mg.
How to use
1 capsule of O!Mega-3 TG3 times a day with meals.
Suitable for children ages 14 and up.
Country of production
Spain
How to buy the products?
Acquisition of products is possible using a special discount card.
Registration of discount card
Please carefully read the terms of registration using the referral link:
Clicking this link, you confirm your desire to join Coral Club in Liga Rymer-Jonikane's structure, who becomes your consultant/sponsor;
By clicking on this link, you confirm your desire to receive information about the company's products, the concept of health of its application and the principles of the company's work in English.
I agree
Registration form
After registration, you receive the number of the discount card, which will give you a 20% discount (for an unlimited period of time) for all products, purchasing in one of the Coral Club stores or on the Internet.
You can contact us for the consultation.
DIETARY SUPPLEMENTS IS NOT INTENDED TO DIAGNOSE, TREAT, CURE, OR PREVENT ANY DISEASE.