Published on 12.07.2017
Last updated on 31.08.2021
PhytoMix for Women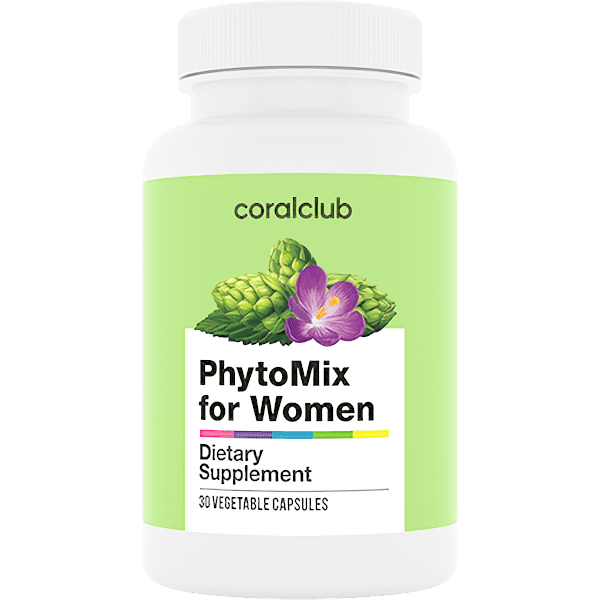 PhytoMix for women – a non-hormonal product designed to maintain the physical and psychological health of women during menopause and reduce the discomfort associated with its typical symptoms (hot flushes, sweating, emotional instability, insomnia, depression).
Benefits of PhytoMix for women
Favorably influences the hormones of the female body, gently soothes, helps to cope with depression, neurosis, and insomnia.
Hops and linen – known natural sources of phytoestrogens.
The action of the active ingredients
Beta-Alanine
"Women", amino acid facilitates the state during the menopause (reduces hot flushes, fever, sweating), is indispensable in conjunction with phytoestrogens.
The extract of hop cones
A calming effect on the central nervous system, reduces irritability, headaches, improves mood and sleep. Thanks, phytoestrogens delicately adjust the menstrual cycle and sexual activity promotes the synthesis of female hormones.
Flax seeds
A rich source of lignans, possessing hormone-activity compensates for the lack of female hormones in the body, supports the health of the mammary glands.
The extract of saffron seed
It contains crocin and safranal – a unique antioxidant and anti-stress components that improve the emotional background.
Ingredients
Beta-alanine 400 mg
Extract of hop cones 100 mg
Flax seed extract ordinary 30 mg
Extract of saffron seed 20 mg
How to use
Adults take 1 capsule 3 times daily with meals.
How to buy PhytoMix for Women?
Acquisition of products is possible using a special discount card.
Registration of discount card
Please carefully read the terms of registration using the referral link:
Clicking this link, you confirm your desire to join Coral Club in Liga Rymer-Jonikane's structure, who becomes your consultant/sponsor;
By clicking on this link, you confirm your desire to receive information about the company's products, the concept of health of its application and the principles of the company's work in English.
I agree
Registration form
After registration, you receive the number of the discount card, which will give you a 20% discount (for an unlimited period of time) for all products, purchasing in one of the Coral Club stores or on the Internet.
You can contact us, if you have any questions.