Published on 12.07.2017
Last updated on 06.06.2022
PhytoMix for Women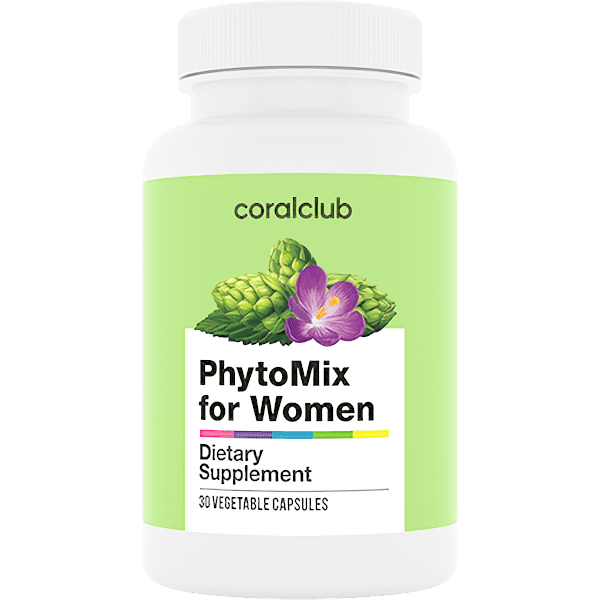 PhytoMix for Women – a non-hormonal product designed to maintain the physical and psychological health of women during menopause and reduce the discomfort associated with its typical symptoms (hot flushes, sweating, emotional instability, insomnia, depression).
Benefits of PhytoMix for women
PhytoMix for Women is a complex of plant-based extracts and the amino acid beta-alanine that may help:
Mitigate some symptoms of menopause: hot flashes, sweating, dizziness, mood swings, irritability, and anxiety;
Improve sleep quality;
Increase antioxidant activity – resulting in improved skin and a reduced appearance of aging.
The product was designed to gently support a woman's body and help increase resistance to stress giving her peace of mind.
The action of the active ingredients
Beta-Alanine
"Women", amino acid facilitates the state during the menopause (reduces hot flushes, fever, sweating), is indispensable in conjunction with phytoestrogens.
This amino acid is naturally formed in the body, but its production decreases with age. Beta-alanine enhances energetic metabolism and thermoregulation, resulting in reduced frequency and intensity of hot flashes, reduced fatigue, anxiety, and emotional instability.
Lifenol® hops extract
Derived from female hop cone flowers (Humulus lupulus), Lifenol® is a natural source of phytoestrogens. The main active ingredient of the patented extract is prenylflavonoid 8-prenylnaringenin, which is sourced in Bavaria and extracted by the company Naturex in their Milan plant. The extract has been clinically studied for effectiveness in reducing sudden hot flashes and improving sleep quality.
Flax seed lignan complex
Flaxseed extract is a rich source of lignans, which contain phytoestrogens. Lignans are reported to help ease dizziness and palpitations and improve mood. In addition, its antioxidant activity helps protect the body from free radicals resulting in improved skin and thus reducing the appearance of aging.
Saffron flower extract
Saffron is the most expensive spice in the world. To get one kilogram of raw materials, you need to collect the stigmas of about 200 thousand flowers! Saffron is known for its anti-depressant-like effects. It's received attention for the potential to positively affect mood, increase concentration, curb appetite, and improve sleep quality.
Ingredients
Beta-alanine 400 mg
Hops extract 100 mg
Flax seed extract ordinary 30 mg
Saffron flower extract 20 mg
How to use
Adults take 1 capsule 3 times daily with meals.
How to buy PhytoMix for Women?
Acquisition of products is possible using a special discount card.
Registration of discount card
Please carefully read the terms of registration using the referral link:
Clicking this link, you confirm your desire to join Coral Club in Liga Rymer's structure, who becomes your consultant/sponsor;
By clicking on this link, you confirm your desire to receive information about the company's products, the concept of health of its application and the principles of the company's work in English.
I agree
Registration form
After registration, you receive the number of the discount card, which will give you a 20% discount (for an unlimited period of time) for all products, purchasing in one of the Coral Club stores or on the Internet.
You can contact us, if you have any questions.
DIETARY SUPPLEMENTS IS NOT INTENDED TO DIAGNOSE, TREAT, CURE, OR PREVENT ANY DISEASE.