Published on 01.03.2021
Last updated on 20.06.2022
Promarine Collagen Peptides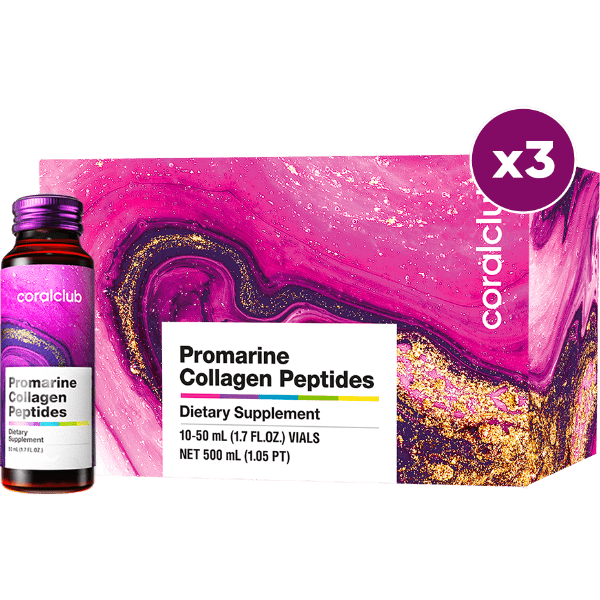 Skin youthfulness depends on one component. This component is COLLAGEN. The unique formula of the product combines bioavailable collagen, the best natural ingredients and modern technologies. Concentrated source of types 1 and 3 marine collagen for youthful skin, strong nails and shiny hair.
Collagen fiber
Due to its special structure, collagen firmly binds tissues, literally holding the body together.

Without collagen fibers, most organs and tissues will lose their shape and cannot perform their functions normally.
The older the body, the less collagen
Our body synthesizes collagen itself from proteins that come from food. However, after 25 years, this process begins to slow down, and the collagen content in organs and tissues begins to decrease.

What causes collagen deficiency?
Rapid skin aging, dryness and wrinkles;
Violation of the growth and structure of hair and nails;
Problems with the spine and ligamentous apparatus;
Visual impairment;
Muscle weakness;
The omission of the internal organs due to lower elasticity of ligaments;
Dental problems, fragility of bones and joints;
Vascular disease.
Young, elastic and firm skin contains 70% collagen.
Structure of the skin
Thanks to collagen:
the skin remains smooth and elastic;
a clear oval of the face is preserved;
the appearance of wrinkles is slowed down;
regeneration is accelerated;
the protective properties of the skin are maintained.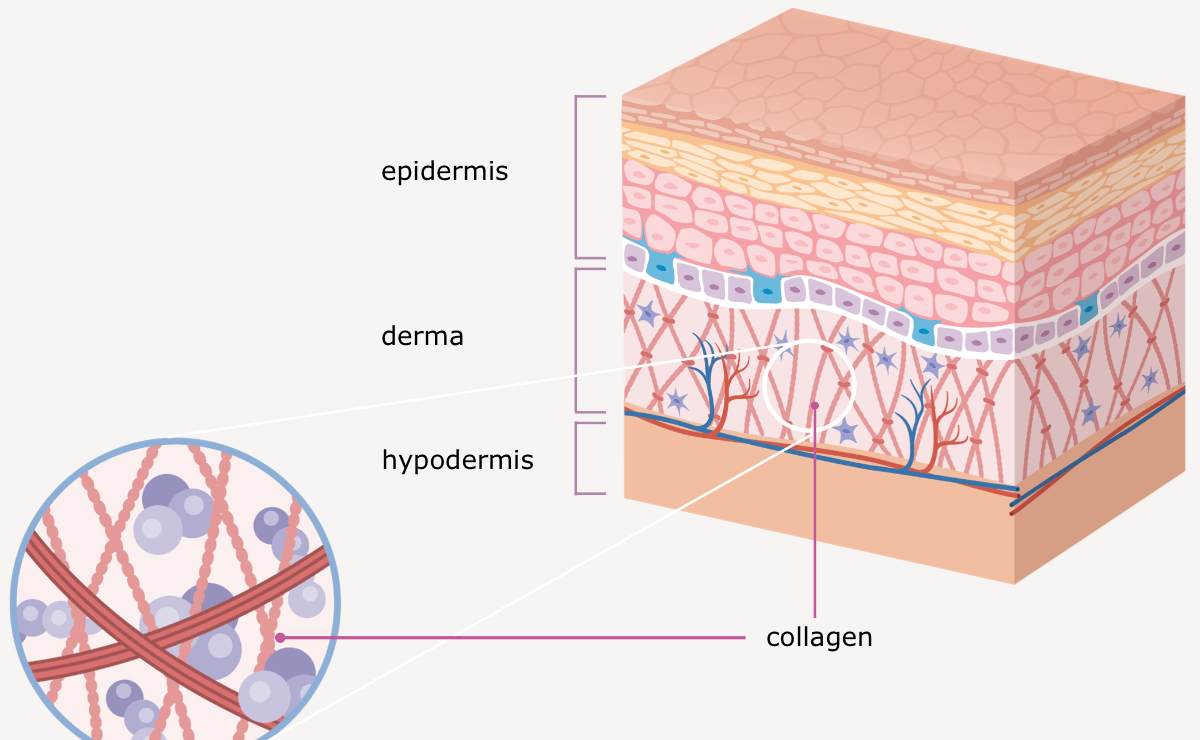 How does the skin age?
Collagen synthesis slows down;
Collagen fibers become thicker and shorter;
The destruction of collagen begins to outstrip its synthesis;
Damaged collagen builds up in the skin and the skin tone becomes uneven.
The elasticity and firmness of the skin decreases, wrinkles and uneven tone appear.
Benefits of Promarine Collagen Peptides
The promarine collagen peptides are natural ingredients for pleasant texture, taste and color:
low-cal vegetable sweeteners (erythritol and steviol glycoside);
natural flavors – orange, lemon and apple;
Apple and blueberry juice concentrate, pectin, citric acid – for a pleasant texture, taste and colour.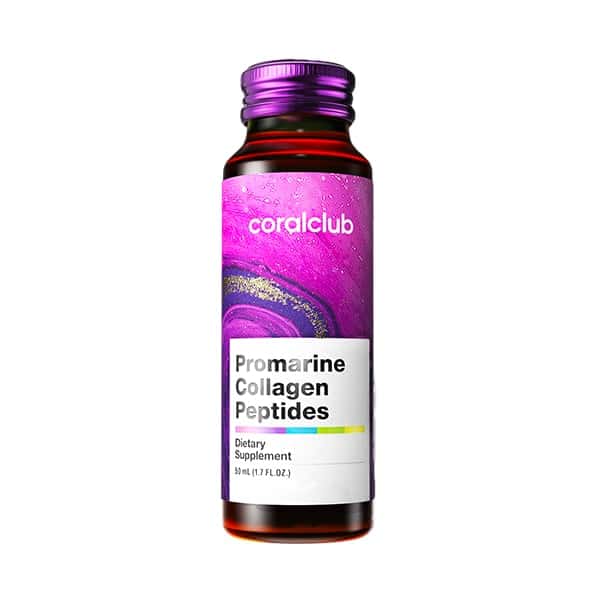 Promarine collagen peptides for:
Face: for radiant, smooth, moisturized skin (slowing down age-related changes: wrinkles, dryness and flabbiness);
Bodies: for tighten and tone (reduce the appearance of cellulite);
Hair and nails: for shiny hair and strong nails (improving keratin synthesis).
Promarine Collagen Peptides 10,000 mg in 1 dose!
High strength glass bottles are used for the product, which provides:
glass as an inert material ensures excellent product preservation;
care for the environment;
rejection of preservatives.
Unlike collagen peptides derived from cattle, pigs and poultry, promarine collagen peptides:
are shorter in length*
have lower molecular weight**
are suitable for more people, including muslims and pescetarians;
do not carry the risk of contracting mad cow disease and avian influenza.
*Alemán, A.; Martínez-Alvarez, O. Marine collagen as a source of bioactive molecules: A review. 2013.
**Khan, S.B.; Qian, Z.-J.; Ryu, B.; Kim, S.-K. Isolation and biochemical characterization of collagens from seaweed pipefish, 2009.
The action of the active ingredients
Vitamin C:
stimulates the synthesis of collagen by fibroblasts;
participates in the production of hyaluronic acid and elastin;
protects the cells from free radicals;
protects the skin from UV radiation.
Vitamin B6:
is necessary for collagen synthesis, because it regulates protein metabolism. It is important for the mutual transformation and metabolism of amino acids;
deficiency of this vitamin can result in skin diseases (dermatitis, dryness and flaking, psoriasis).
Biotin ("beauty vitamin", vitamin B7 or Н):
contains Sulphur – an important component for collagen synthesis and, therefore, for the health of skin, nails and hair;
its deficiency can cause deterioration of nails condition (brittleness, flaking off, impaired growth and structure), hair (split ends, thinning and fractured hair, loss of hair, premature grey hair, increased fat content, or conversely, excessive dryness).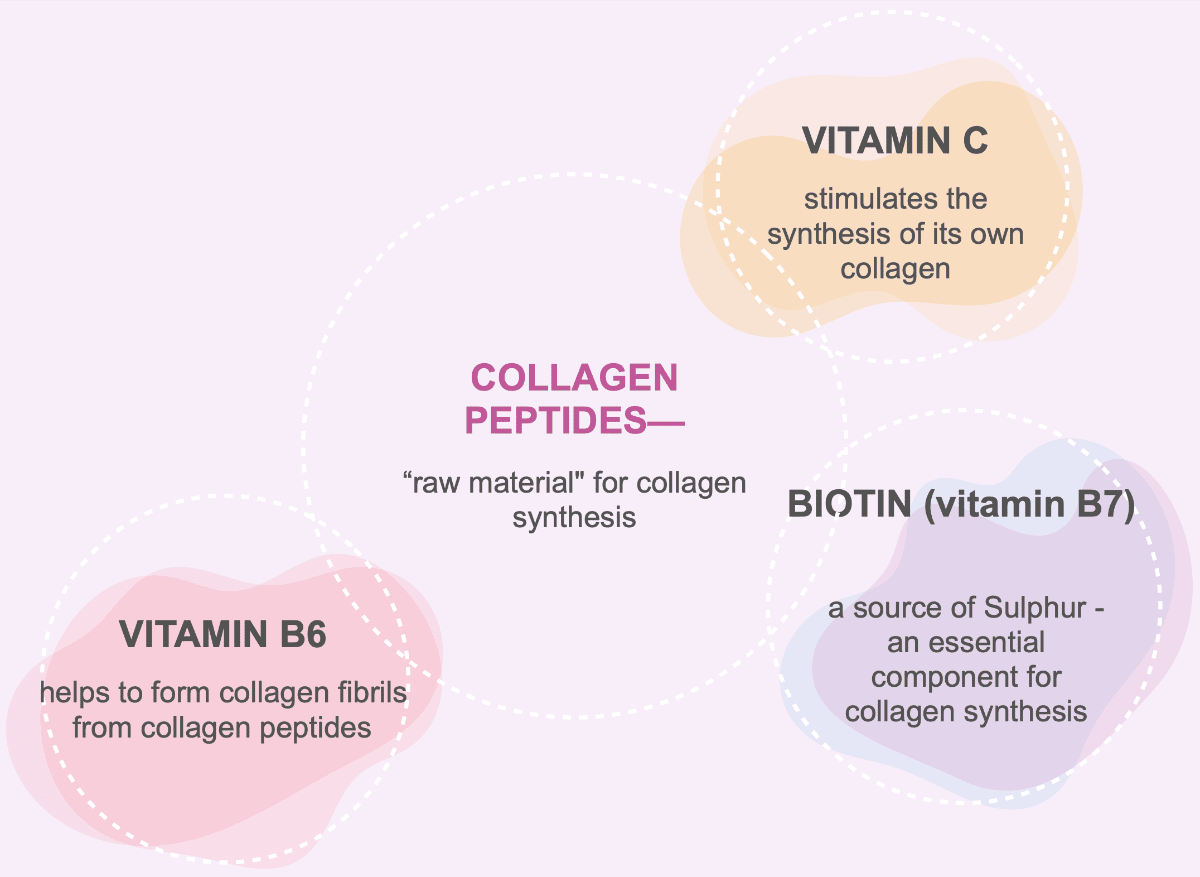 Collagen types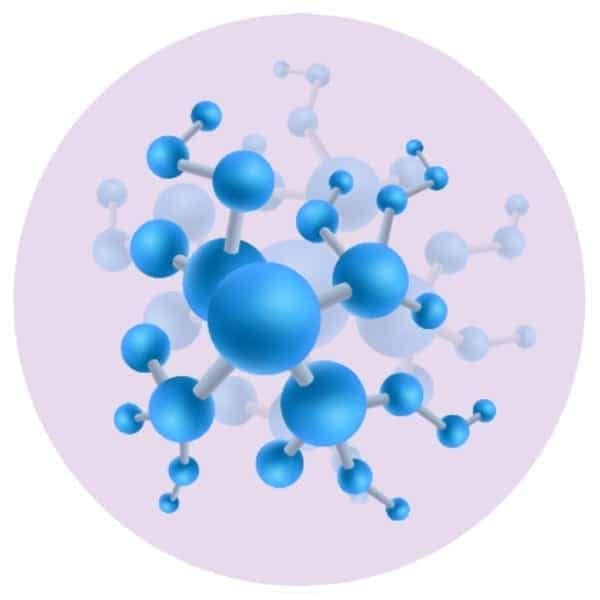 Collagen peptides are small in size with a molecular weight 0.5-15 kDa (kilodaltons) and can easily penetrate into the bloodstream.
That is why collagen peptides are distinguished by high bioavailability and efficiency compared to raw collagen (cartilage and skin) with a molecular mass of 300-360 kDa and partially hydrolyzed collagen (gelatin) with a molecular mass of 20-220 kDa.
Research results
8 adult participants;
age 25-60 years;
4 weeks of taking collagen peptides.
Ingredients
Marine collagen peptides: 10,000 mg
Vitamin С: 100 mg (167% RDV*)
Vitamin В6: 1.4 mg (70% RDV *)
Biotin: 50 mcg (100% RDV *)
Spinach: 1 mg
*RDV — Recommended Daily Value
How to use
Shake, open and take a sip. One bottle (1 serving) in the morning on an empty stomach (it is possible with meals if the stomach is intolerant).
Duration of admission:
4 weeks of continuous use to increase skin hydration, smoothness and firmness.
With aging skin, you can extend the intake up to 2 months.
1 course = 30 bottles of 50 ml.
Note: It is recommended to exclude carbohydrates from the diet as much as possible during the course of collagen so that there is no glycation of this collagen (glycation is a natural process in which sugar in the bloodstream binds to proteins and forms harmful molecules, as a result of which the skin ages).
Country of production
Taiwan
How to buy Promarine Collagen Peptides?
Acquisition of products is possible using a special discount card.
Registration of discount card
Please carefully read the terms of registration using the referral link:
Clicking this link, you confirm your desire to join Coral Club in Aiga Finstere's structure, who becomes your consultant/sponsor;
By clicking on this link, you confirm your desire to receive information about the company's products, the concept of health of its application and the principles of the company's work in English.
I agree
Registration form
After registration, you receive the number of the discount card, which will give you a 20% discount (for an unlimited period of time) for all products, purchasing in one of the Coral Club stores or on the Internet.
You can contact us for the consultation.
DIETARY SUPPLEMENTS IS NOT INTENDED TO DIAGNOSE, TREAT, CURE, OR PREVENT ANY DISEASE.