Published on 19.05.2022
Last updated on 19.05.2022
Safrino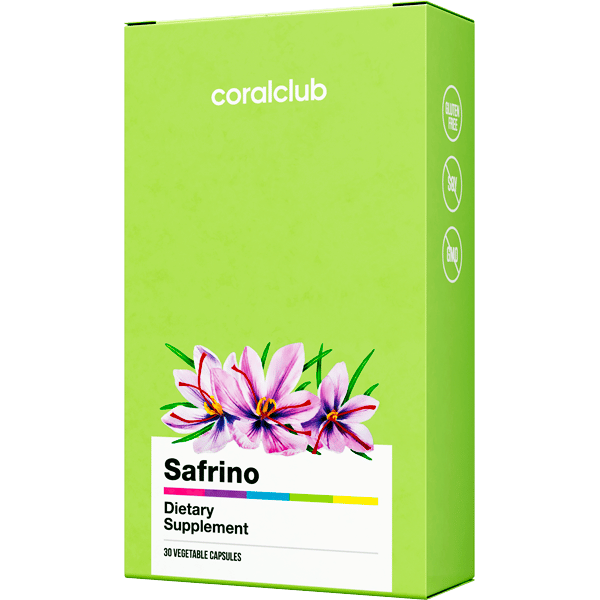 "Safrino" combines the valuable properties of "Safr-Inside™," a patented Iranian saffron extract, with those of Myo-Inositol. The product helps to stabilize the emotional balance during acute and chronic stress, as well as improve sleep and mood.
Benefits of Safrino
Safrino can help:
stabilize the emotional balance in acute and chronic stressful situations, including PMS and menopause;
improve mood and sleep quality;
reduce the physical impact of stress on the heart by maintaining a normal heart rate in stressful situations;
reducing the secretion of the hormone cortisol by 44%.
Vegan, non-GMO, gluten-free.
The action of the active ingredients
Since ancient times, saffron has been helping people cope with mental and emotional disorders. Saffron began being cultivated as early as 1500 BC. It was and remains the most expensive spice in the world. Saffron stigmas are prized for their medicinal value because they have a positive effect on physical and mental health.
Safr'Inside™ is the only encapsulated saffron stigma extract available today.
The manufacturer of the extract, the French company Activ'Inside, uses high-quality Iranian Sargol saffron. The patented gentle extraction process preserves the active substances of saffron and provides the highest content of safranal (2%), which is 10 times more than in non-encapsulated saffron extracts. Saffron stigma extract slows down the breakdown of serotonin by 50%, while reducing the secretion of the hormone cortisol by 44%. Both of these hormones are directly related to ability of the body to cope with stress.
Myo-Inositol
Out of all the nine isomers of inositol, Myo-Inositol has the highest biological activity, is best absorbed, and therefore acts fastest. The highest concentration of inositol is found in the brain, since it plays an important role in the transmission of nerve impulses and is involved in the synthesis of dopamine and serotonin. These actions together can help increase the body's resistance to stress.
Ingredients
Myo-Inositol 350 mg
Saffron (Crocus sativus L.) stigma extract (Safr'Inside™) 30 mg
Zinc (as zinc oxide from capsule shell) 2.3 mg
How to use
Adults should take 1 capsule per day with a meal.
Country of production
Slovenia
How to buy Safrino?
Acquisition of products is possible using a special discount card.
Registration of discount card
Please carefully read the terms of registration using the referral link:
Clicking this link, you confirm your desire to join Coral Club in Liga Rymer-Jonikane's structure, who becomes your consultant/sponsor;
By clicking on this link, you confirm your desire to receive information about the company's products, the concept of health of its application and the principles of the company's work in English.
I agree
Registration form
After registration, you receive the number of the discount card, which will give you a 20% discount (for an unlimited period of time) for all products, purchasing in one of the Coral Club stores or on the Internet.
You can contact us for the consultation.