Published on 11.07.2017
Last updated on 19.02.2023
Set Go Pack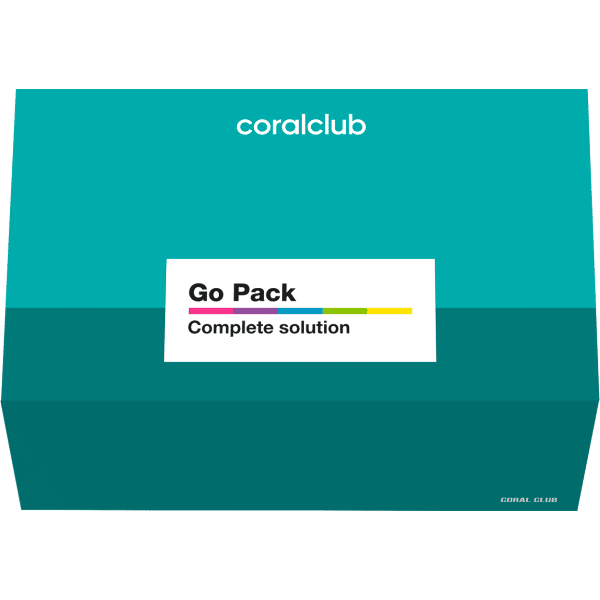 Set Go Pack (Healthy Start) is a balanced combination of the 5 most popular Coral Club products that support your digestive, cardiovascular and nervous systems. These products also help detoxify your body, improve metabolism and cope with stress. It is an easy solution for those who are just starting to take their first steps toward a healthy lifestyle.
Benefits of Set Go Pack
The activation of internal energy resources of the body.
Optimization of the processes of cellular energy.
Harmonization of the processes of assimilation of nutrients in the intestine.
Optimization of acid-base balance in the body.
Run optimal enzymatic function.
Optimization of the composition of beneficial bacteria for digestion.
Restore the conduction of nerve impulses in the Central nervous system.
Creation of conditions for the revitalization of the enteric nervous system (second brain).
Mood improvement by creating conditions for the development of hormones of joy.
For whom is the program intended?
To everyone who wants to be healthy, regardless of age and the initial level of health.
Everyone who has a lot of health problems does not understand the reasons and does not know where to start.
Older people who want to stay healthy for years and do not know how.
Young people who are just starting their family life and want to raise healthy children.
Students who want to improve the effectiveness of training, but feel a lack of energy and fatigue from the loads.
To everyone who wants to increase their health resources and use them economically and efficiently.
To everyone who wants to see their loved ones healthy.
Ingredients
Set Go Pack includes:
How to use
Coral-Mine –

30 ml of water per 1 kg of weight (per day).

Coral Lecithin –

two capsules 2 times daily with meals.

Papaya – one

capsule 3 times daily after meals.

Super Flora – one

capsule 3 times daily with meals.

Griffonia – one

capsule 2 times daily (in the first half of the day) after meals.
How to buy Set Go Pack?
Acquisition of products is possible using a special discount card.
Registration of discount card
Please carefully read the terms of registration using the referral link:
Clicking this link, you confirm your desire to join Coral Club in Liga Rymer's structure, who becomes your consultant/sponsor;
By clicking on this link, you confirm your desire to receive information about the company's products, the concept of health of its application and the principles of the company's work in English.
I agree
Registration form
After registration, you receive the number of the discount card, which will give you a 20% discount (for an unlimited period of time) for all products, purchasing in one of the Coral Club stores or on the Internet.
You can contact us, if you have any questions.
DIETARY SUPPLEMENTS IS NOT INTENDED TO DIAGNOSE, TREAT, CURE, OR PREVENT ANY DISEASE.