Published on 03.01.2023
Last updated on 03.01.2023
Slim by Slim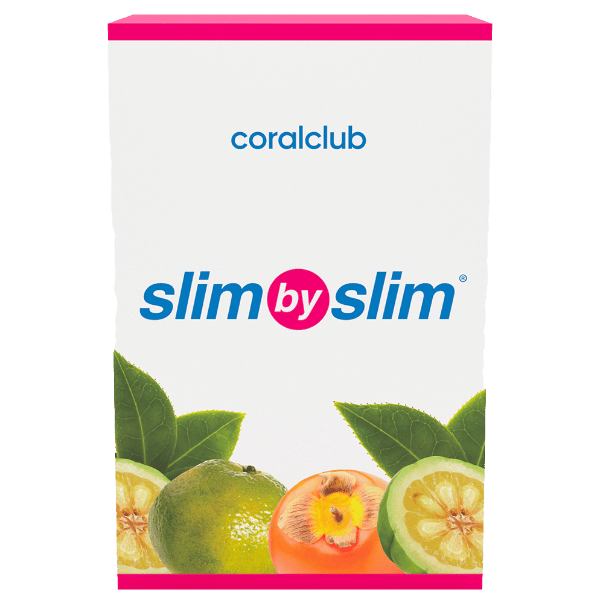 Thanks to its active herbal ingredients Slim by Slim maximises weight modification and easily deals with cholesterol by quickly splitting and flushing it from the body, which ensures low blood sugar. Slim by Slim also detoxifies and purifies the body.
Benefits of Slim by Slim
normalize lipid metabolism;
normalize body weight;
reduce appetite and cravings for sugar;
normalize blood sugar levels;
increase vitality and endurance.
The action of the active ingredients
Cambodian Garcinia — is a source of hydroxycitric acid (HCA). Once it is released from the fruit into the body its action is threefold: it reduces production of fatty acids and cholesterol, it increases fat oxidation, and it controls appetite. HCA is involved in the metabolism of sugars and fats, preventing the transformation of sugars into fats. By blocking the production of fatty acids from carbohydrates, it maintains a glucose concentration at which the hypothalamus does not stimulate the appetite.
Inulin – is a soluble fibre and an actice prebiotic. Its properties are manifested in the large intestine at the level of its symbiotic flora. There it selectively stimulates the growth and metabolic activity of good bacteria. It also acts as an absorbent, helping cleanse the body of toxins and waste materials.
Citrus peel extract — has a coffee-like toning-up effect. It contains a large amount offlavonoids (naringin, rutin, quercetin, and hesperidin), which have an anti-sclerotic effect (i.e. reduces the hardening of arteries). The extract reduces the overall level of lipids in the blood, liver, blood vessels, and bile; helping to speed up the bile's decomposition without any harmful side effects.
Persimmon extract — is a source of many nutrients: dietary fibre, minerals (sodi um, magnesi um, potassium, manganese, and calcium), easily digestible carbohydrates, vitamins A, C and P. These sugars are necessary for the production of glycogen in the liver and its nutrition.
Goji berry extract — has antioxidant and energizing effects, significantly improves the digestive process, and has a beneficial effect on liver function. Weight loss resulting from eating these fruit is associated with the large number of antioxidants that they contain. Their effect is rapid dissolution of fats.
Green Tea Leaf Extract — is also an active antioxidant and a source of biologically active substances. It stimulates metabolism, accelerating the oxidation of fats and increasing energy utilization. In addition it bonds and removes cholesterol from the body, as well as other toxic substances.
Taurine — is an essential amino acid found in the liver. It plays an important role in carbohydrate and lipid metabolism, helping optimise energy utilization.
Vitamin C — is one of the most effective antioxidants. It stimulates the detoxification enzyme systems of the liver, normalising the cholesterol level in the blood.
Ingredients
FOS 2 g; Citrus peel extract 0.8 g; Persimmon fruit extract 0.7 g; Goji fruit extract 0.7 g; Garcinia fruit extract 0.5 g; Green tea leaf extract 0.3 g; Taurine 0.25 g; Vitamin C 0.1 g.
How to use
½ stick mixed with warm water, with a meal, once a day for 30 days.
Country of production
South Korea
How to buy Slim by Slim?
Acquisition of products is possible using a special discount card.
Registration of discount card
Please carefully read the terms of registration using the referral link:
Clicking this link, you confirm your desire to join Coral Club in Liga Rymer-Jonikane's structure, who becomes your consultant/sponsor;
By clicking on this link, you confirm your desire to receive information about the company's products, the concept of health of its application and the principles of the company's work in English.
I agree
Registration form
After registration, you receive the number of the discount card, which will give you a 20% discount (for an unlimited period of time) for all products, purchasing in one of the Coral Club stores or on the Internet.
You can contact us for the consultation.
DIETARY SUPPLEMENTS IS NOT INTENDED TO DIAGNOSE, TREAT, CURE, OR PREVENT ANY DISEASE.