Published on 04.11.2021
Last updated on 20.06.2022
Ultimate Max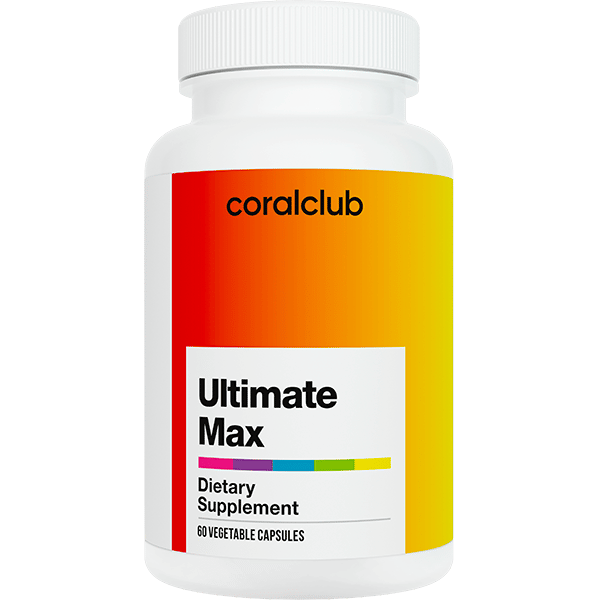 Ultimate Max is a balanced complex of vitamins, minerals, and phytonutrients in an active bioavailable form that replenishes the body's nutrient deficiency.
The modern diet is often deficient in essential nutrients that are necessary for the normal functioning of the body. Taking vitamin and mineral complexes and phytonutrients helps to replenish this lack of nutrients and support optimal organ and system function.
What does a lack of vitamins and minerals lead to?
Some facts
Vitamin D deficiency is a global problem. According to the latest research, it is found in all ethnic groups, and even in countries with year-round sunlight.
~20% of the population lacks vitamin B12. Residents of industrialized countries suffer from its deficit.
Residents of Europe, the USA, Canada, and Russia receive less than 15% of the physiological need for zinc. 17.3% of the world's population is at risk of suboptimal consumption of this mineral.
~ 1 billion people are deficient in selenium.
~ 2 billion people suffer from iodine deficiency.
Benefits of Ultimate Max
The product helps:
Normalize vitamin and mineral balance;
Support the immune system;
Increase efficiency and vitality;
Improve metabolism.
Ultimate Max is:
Modern, bioavailable nutrients;
12 of the 13 existing vitamins;
10 essential macro and micronutrients;
Vitamin-like substances choline, inositol, and p-aminobenzoic acid;
Balanced composition;
Complex of herbal extracts;
Bioflavonoid Complex;
Vegetable capsule instead of a pill.
10 vitamins and minerals have been updated to more modern, bioavailable forms:
Vitamin C in a buffered form suitable for sensitive GI tracts;
Vitamin B9 in the most active folate form of patented Metafolin® calcium L-methylfolate instead of the regular folate form;
Vitamin B6 in the form of pyridoxal phosphate instead of pyridoxine hydrochloride;
Vitamin B12 in the form of methylcobalamin instead of cyanocobalamin;
Vitamin A represented by beta-carotene, a provitamin. A provitamin is a substance that may be converted within the body to a vitamin. They are also known as previtamins. In this case, the body uses beta-carotene to produce vitamin A, depending on its needs. This helps avoid the possibility of an accidental overdose;
Magnesium in the highly bioavailable form of magnesium citrate instead of magnesium oxide;
Potassium in the form of potassium citrate, which has a more preferable effect on the body than potassium chloride;
Zink in the form of organic zinc citrate salt instead of zinc gluconate.
The action of the active ingredients
Vitamin A
Vitamin A is known as the "vitamin of vision" because it supports retinal function and helps to adapt vision to low light conditions. It also promotes normal metabolism and supports the immune and reproductive systems. Ultimate Max includes vitamin A in the bioavailable form of beta-carotene.
B Vitamins
Ultimate Max contains the entire spectrum of B vitamins. These are important for supporting optimal metabolism, nervous and cardiovascular system function, healthy digestion, and skin, hair, and nail health. The need for B vitamins increases during stressful situations and high physical exertion. Ultimate Max includes vitamin B6 as pyridoxal phosphate, B9 as the patented Metafolin®, and B12 as methylcobalamin.
Vitamin C
Vitamin C is the most important antioxidant for strengthening the immune system and protecting cells from damage. It is essential for the synthesis of collagen and it accelerates the healing of skin lesions. The source of vitamin C in Ultimate Max is mineral ascorbates. Vitamin C in this form is more stable, less irritating to the mucous membrane, and additionally enriches the body with magnesium and calcium.
Vitamins D and E
These naturally derived vitamins are necessary for optimal immune, nervous, cardiovascular, musculoskeletal, and reproductive system function.
Minerals (Chromium, Selenium, Copper, Zinc, Manganese, Molybdenum, and Magnesium)
The minerals included in Ultimate Max are in the form of organic salts. Included in the product are zinc and magnesium citrates, chromium picolinate, copper bisglycinate, and manganese gluconate. These organic compounds have high bioavailability and efficiency.
Iodine
The iodine included in Ultimate Max is derived from brown seaweed kelp. Iodine is involved in the synthesis of thyroid hormones, which regulate all types of metabolism in the body.
Phytonutrient Complex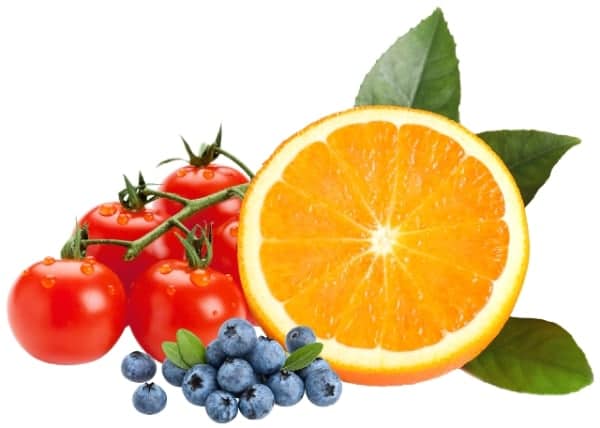 Ultimate Max includes a complex of bioflavonoids derived from various citrus and berry fruits – lemon, grapefruit, orange, lime, tangerine, blueberry, acai, and tomato. These are excellent antioxidants and the best defenders of the heart and blood vessels. In synergy with vitamins, they ensure the strength and elasticity of blood vessels, improve blood microcirculation, and help prevent the formation of blood clots.
PABA (para-aminobenzoic acid)
PABA is an important component for maintaining healthy skin, hair, nails, and digestion. Essential for the creation and maintenance of new cells. Supports bowel and liver function. The synthesis of PABA can be disrupted as a result of disorders in the GI tract.
Choline
Improves cognitive function and emotional well-being;
Protects the liver;
Provides a steady supply of glucose to cells;
Maintains blood flow;
Supports brain function;
Regulates insulin levels.
Inositol
Is a structural component of cell membranes;
Helps maintain normal blood sugar levels.
Inositol and Choline are important components for supporting proper brain function.
Ingredients
Vitamin A (beta-carotene) 900 mcg
Vitamin C (calcium ascorbate and magnesium ascorbate) 80 mg
Vitamin D (cholecalciferol) 5 mcg (200 IU)
Vitamin E (D-alpha tocopheryl succinate and tocotrienols) 20 mg
Thiamine (thiamin hydrochloride) 1.1 mg
Riboflavin (riboflavin 5-phosphate) 1.4 mg
Niacin (niacinamide) 8 mg
Vitamin B6 (pyridoxal-5-phoshate) 1.4 mg
Folic Acid (calcium L-methylfolate Metafolin®) 100 mcg
Vitamin B12 (methylcobalamin) 2 mcg
Biotin (d-biotin) 50 mcg
Pantothenic Acid (d-calcium pantothenate) 5 mg
Choline (bitartrate) 50 mg
Iodine (Laminaria digitata) 50 mcg
Magnesium (magnesium citrate) 20 mg
Zinc (zinc citrate) 5 mg
Selenium (L-selenomethionine) 50 mcg
Copper (copper bisglycinate) 0.5 mg
Manganese (manganese gluconate) 1 mg
Chromium (chromium picolinate) 40 mcg
Molybdenum (sodium molybdate) 12 mcg
Potassium (potassium citrate) 10 mg
Inositol 50 mg
PABA (para-aminobenzoic acid) 50 mg
Citrus Bioflavonoid Complex (Lemon (Citrus limon), Grapefruit (Citrus paradisi), Orange (Citrus sinensis), Key lime (Citrus aurantifolia), and Mandarin (Citrus reticulata)) 50 mg
Proprietary herbal blend (Hespiridin (Citrus spp.), Bilberry (Vaccinium myrtillus) fruit extract, Acai (Euterpe oleracea), and Tomato (Lycopersicon esculentum) powder) 20 mg
How to use
Adults take 1 capsule 2 times a day with meals.
Country of production
USA
How to buy Ultimate Max?
Acquisition of products is possible using a special discount card.
Registration of discount card
Please carefully read the terms of registration using the referral link:
Clicking this link, you confirm your desire to join Coral Club in Liga Rymer's structure, who becomes your consultant/sponsor;
By clicking on this link, you confirm your desire to receive information about the company's products, the concept of health of its application and the principles of the company's work in English.
I agree
Registration form
After registration, you receive the number of the discount card, which will give you a 20% discount (for an unlimited period of time) for all products, purchasing in one of the Coral Club stores or on the Internet.
You can contact us for the consultation.
DIETARY SUPPLEMENTS IS NOT INTENDED TO DIAGNOSE, TREAT, CURE, OR PREVENT ANY DISEASE.