Published on 13.07.2017
Last updated on 06.06.2022
Yummy Vits children's vitamins with Orange taste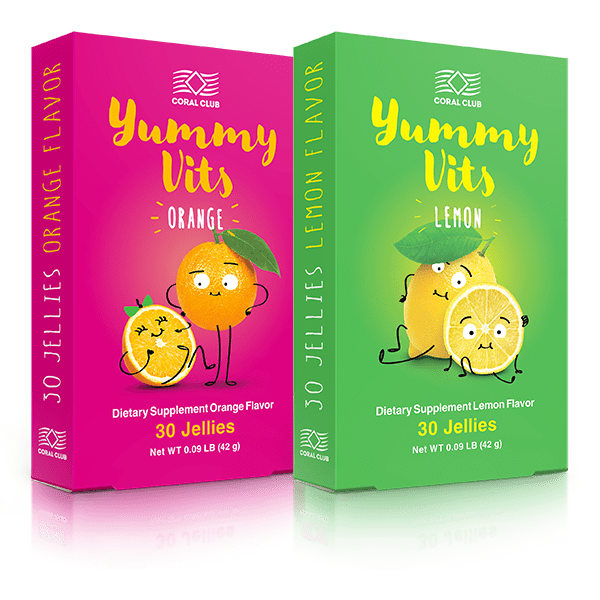 Yummy Vits 100% natural children's vitamins. The product combines all the vitamins and minerals which are necessary to maintain the child's health. Helps normalize vitamin and mineral balance in the body. Vitamin complex is especially necessary for the child's in active growth time. Vitamin complex available with orange taste.
Benefits of Yummy Vits
Balanced vitamin and mineral complex of new generation, created with the needs of the growing organism.
Chewable lozenges with the natural citrus taste like both adults and children.
Innovative technology ConCordix (Norway) provides high bio-availability of included in the vitamin B complex.
The digestibility of the Yummy Vits is 44% more than in capsules and tablets!
The action of the active ingredients
Vitamins A, E, C and selenium – active antioxidants that strengthen the immune system, the cardiovascular system. Increase physical activity, help the body to efficiently recover after intensive exercise.
Vitamin D normalizes the metabolism of calcium and phosphorus in the body, directly affecting the condition of bones and teeth. Also important for the normal functioning of the immune system.
B vitamins (B4, B5, B6, B9 and B12) essential for normal growth and development of the organism. Contribute to the improvement of the skin, hair, nails. Positively affect on the functioning of the central and peripheral nervous system: beneficial effect on cognitive brain function (memory, concentration, intelligence) to help stabilize the psycho-emotional state.
Iodine is essential for the normal functioning of the endocrine system, the full development of the brain, maintenance of normal weight.
The xylitol and sorbitol is natural flavors provide a pleasant citrus flavor and sweetness in combination with safety for dental enamel.
Ingredients
Vitamin A, vitamin D3, vitamin E, vitamin B6, folic acid, vitamin B12, pantothenic acid, iodine, selenium, choline. Natural flavors (orange / lemon juice), xylitol.
How to use
Adults and children 1 lozenge per day.
How to buy Yummy Vits children's vitamins?
Acquisition of products is possible using a special discount card.
Registration of discount card
Please carefully read the terms of registration using the referral link:
Clicking this link, you confirm your desire to join Coral Club in Liga Rymer's structure, who becomes your consultant/sponsor;
By clicking on this link, you confirm your desire to receive information about the company's products, the concept of health of its application and the principles of the company's work in English.
I agree
Registration form
After registration, you receive the number of the discount card, which will give you a 20% discount (for an unlimited period of time) for all products, purchasing in one of the Coral Club stores or on the Internet.
You can contact us, if you have any questions.
DIETARY SUPPLEMENTS IS NOT INTENDED TO DIAGNOSE, TREAT, CURE, OR PREVENT ANY DISEASE.