Published on 26.02.2020
Last updated on 09.09.2022
B-Kurunga – healthy microflora and strong immunity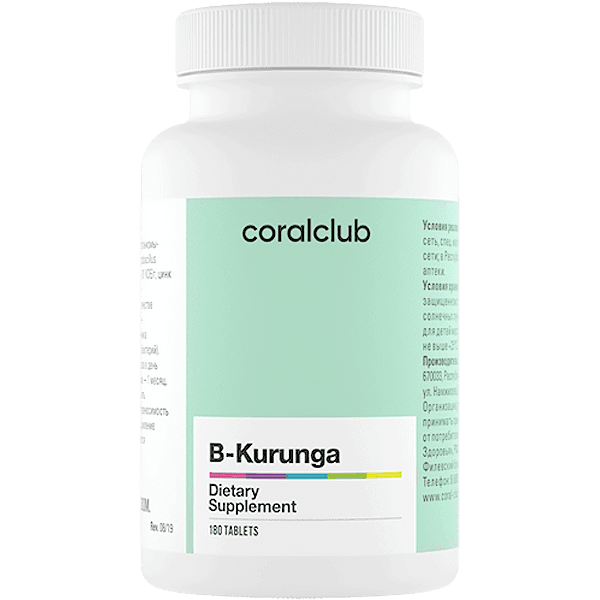 B-Kurunga – a complex of symbiotic probiotics and zinc for restoring the intestinal microflora, improving digestion and strengthening the immunity.
For hundreds and thousands of years, people have been paying attention to how food affects the body and preserved not only delicious and easy-to-cook recipes, but also those that have had a positive effect on well-being and helped to maintain health in conditions that is far from the comfort of the modern life nowadays. One of these categories was sour milk drinks. The diet of northern and central Asian nations consisted mainly of animal products: meat and dairy products, the regular consumption of which provoked many unpleasant processes in the gastrointestinal tract, such as putrefaction and fermentation, which adversely affects the gut microflora.
Over the centuries, people in Central and North Asia have been preparing a sour milk drink that has improved digestion and strengthened immunity through a homogeneous diet and nomadic life.
Qualities of B-Kurunga
Strengthens the immune system and optimizes metabolism in the body;
Restores the gastrointestinal microflora, improves digestion and nutrients assimilation;
Promotes a firming effect.
The action of the active ingredients
B-Kurunga: probiotics + zinc
Kurunga – a symbiotic concentrate of probiotic cultures of natural origin;
Zinc – an important trace element for strengthening the immune system.
Probiotic cultures – Lactobacillus acidophilus, Lactobacillus delbrueckii subsp bulgaricus have a beneficial effect on the composition and biological activity of the gastrointestinal microflora and stimulates the production of interferon (the main protecting protein in the body). Acidophilic and Bulgarian sticks are considered the best anti-aging agent. It both helps to improve gastrointestinal function and digestion, prevent allergic reactions and intoxication, promote immunity.
Zinc helps to maintain and develop hormone levels. It is a part of more than 300 enzymes, plays a key role in DNA development and cell division, maintains an acid-alkaline balance, increases body resistance and speeds up the healing process of damaged tissues.
Ingredients
Microorganisms-probiotics (Lactobacillus acidophilus, Lactobacillus delbrueckii subsp. Bulgaricus), not less than 1х107 KOE / g, 599.25 mg (amount per 1 tablet).
Zinc (zinc oxide) 0.6 mg (amount per 1 tablet).
How to use
Adults: 2 tablets 2 times a day on an empty stomach.
How to buy B-Kurunga?
Acquisition of products is possible using a special discount card.
Registration of discount card
Please carefully read the terms of registration using the referral link:
Clicking this link, you confirm your desire to join Coral Club in Liga Rymer's structure, who becomes your consultant/sponsor;
By clicking on this link, you confirm your desire to receive information about the company's products, the concept of health of its application and the principles of the company's work in English.
I agree
Registration form
After registration, you receive the number of the discount card, which will give you a 20% discount (for an unlimited period of time) for all products, purchasing in one of the Coral Club stores or on the Internet.
You can contact us for the consultation.
DIETARY SUPPLEMENTS IS NOT INTENDED TO DIAGNOSE, TREAT, CURE, OR PREVENT ANY DISEASE.