Published on 24.10.2019
Last updated on 18.06.2022
Liposomal Vitamin C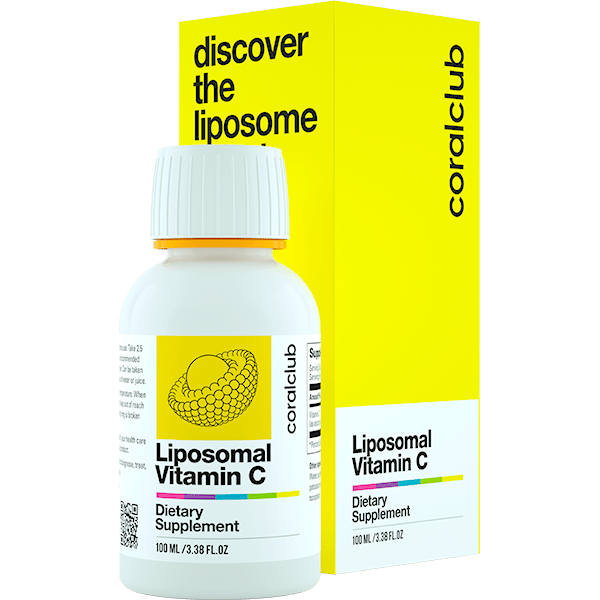 Liposomal Vitamin C provides this key foundational nutrient formulated with liposomal technology. Liposomal technology protects the vitamin through the digestive system and transports it into the bloodstream for absorption in the cells. You get all the benefits of Vitamin C without the gastric distress.
Benefits of Vitamin C
Participates in the synthesis of collagen and elastin, its own hyaluronic acid, active forms of folic acid and vitamin D;
Is a strong antioxidant that can strengthen your body's natural defenses;
Is vital for skin health;
Strengthens blood vessels;
Promotes the restoration of tissues and mucous membranes;
Accelerates the elimination of toxic substances from the body;
Increases the body's endurance to stress;
Protects the body from free radicals.
The action of the active ingredients
Vitamin C, also called ascorbic acid, plays many important roles in the body. In particular, it is key to the immune system, helping prevent infections. The human body does not make or store vitamin C, so people need to get this nutrient from their diet every day. Vitamin C is a strong antioxidant that can strengthen your body's natural defenses.
Vitamin C plays an important role in a number of bodily functions including the production of collagen, L-carnitine, and some neurotransmitters. It helps metabolize proteins and improves the absorption of calcium, iron and zinc. Vitamin C is one of many antioxidants that can protect against damage caused by harmful free radicals, as well as toxic chemicals and pollutants.
Vitamin C is not synthesized and does not accumulate in the body, so it is necessary to regularly replenish its supply. The usual forms of ascorbic acid are not fully absorbed, are rapidly destroyed and irritate the mucous membrane of the digestive tract.
The main advantages of vitamin C, enclosed in a liposomal membrane, are its high bioavailability and protection of the digestive tract mucosa from irritation even when taking high doses. The liposomal membrane consists of phospholipids, which serve as an additional building material for damaged cell membranes.
Ingredients
Vitamin C (ascorbic acid), water, sunflower lecithin, glycerin, potassium sorbate, vitamin E (D-alpha tocopherol).
How to use
After opening, store the vial in the refrigerator. Use within two months after opening. Shake the vial before taking. Adults take 2.5 ml 1-2 times a day on an empty stomach. Dissolve in a small amount of water (do not mix water – drink immediately).
2.5 ml (500 mg vitamin С, which is 833% from daily requirement).
How to buy Liposomal Vitamin C?
Acquisition of products is possible using a special discount card.
Registration of discount card
Please carefully read the terms of registration using the referral link:
Clicking this link, you confirm your desire to join Coral Club in Liga Rymer's structure, who becomes your consultant/sponsor;
By clicking on this link, you confirm your desire to receive information about the company's products, the concept of health of its application and the principles of the company's work in English.
I agree
Registration form
After registration, you receive the number of the discount card, which will give you a 20% discount (for an unlimited period of time) for all products, purchasing in one of the Coral Club stores or on the Internet.
You can contact us, if you have any questions.
DIETARY SUPPLEMENTS IS NOT INTENDED TO DIAGNOSE, TREAT, CURE, OR PREVENT ANY DISEASE.