Published on 24.10.2019
Last updated on 09.09.2022
Liposomal Vitamin D3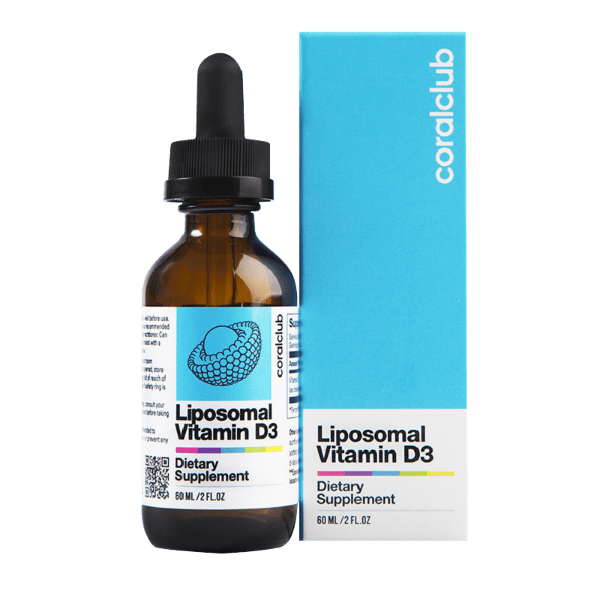 All the valuable properties of vitamin D3 in the most bioavailable and safe form. Due to the technology of liposomal encapsulation, the vital vitamin is absorbed better, and its synthesis does not require prolonged exposure to the sun.
Benefits of vitamin D3
Regulates the absorption of calcium and phosphorus.
Strengthens the immune system.
It is necessary for the formation of the bone skeleton and teeth. Reduces the risk of fractures.
It is used in combination in the treatment of asthma, multiple sclerosis, obesity.
The action of the active ingredients
Vitamin D3 is a micronutrient that plays an important role in the human body from early childhood and throughout life. It contributes to the normal absorption of calcium, magnesium and phosphorus, which are necessary for the formation of bones and teeth. Its use prevents diseases of the musculoskeletal system: rickets, osteoporosis.
Vitamin D3 affects the state of the immune and reproductive systems, participates in the metabolism and affects the cognitive functions of the body. Activates the synthesis of protective proteins that reduce the likelihood of developing viral and infectious diseases. People who get enough Vitamin D3 can easily handle stressful situations: cold, changing time zones, night work, exams.
The main advantages of vitamin D3, which is enclosed in a liposomal membrane, are maximum bioavailability, safety and preservation of the active substance in a stable state. The liposomal membrane consists of phospholipids, which serve as an additional building material for damaged cell membranes.
Ingredients
Vitamin D3 (cholecalciferol), xylitol, sunflower lecithin, glycerin, water, potassium sorbate, natural apricot flavoring, vitamin E (D-alpha-tocopherol).
How to use
After opening, store the vial in the refrigerator. Use within two months after opening. Shake the vial before taking. Adults take 0.5 ml 1-2 times daily with meals. Dissolve in a small amount of water (do not mix water – drink immediately).
0.5 ml (10 mcg / 400 IU of vitamin D3, which is 200% from daily requirement).
How to buy Liposomal Vitamin D3?
Acquisition of products is possible using a special discount card.
Registration of discount card
Please carefully read the terms of registration using the referral link:
Clicking this link, you confirm your desire to join Coral Club in Liga Rymer's structure, who becomes your consultant/sponsor;
By clicking on this link, you confirm your desire to receive information about the company's products, the concept of health of its application and the principles of the company's work in English.
I agree
Registration form
After registration, you receive the number of the discount card, which will give you a 20% discount (for an unlimited period of time) for all products, purchasing in one of the Coral Club stores or on the Internet.
You can contact us, if you have any questions.
DIETARY SUPPLEMENTS IS NOT INTENDED TO DIAGNOSE, TREAT, CURE, OR PREVENT ANY DISEASE.