Published on 29.12.2019
Last updated on 28.09.2021
Privilege Repairing Eye Cream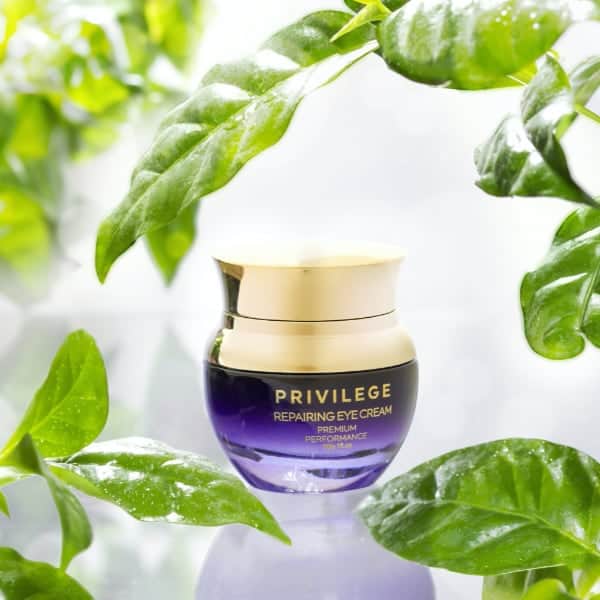 Privilege Repairing Eye Cream is formulated to improve the appearance of lines, wrinkles, dark circles and puffiness around the eye area. A balance of Science and Nature work in concert to provide a luxurious high-performance product.
The eye cream contains sweet almond oil, which easily penetrates deep into the skin, and jojoba oil as an antibacterial moisturizer. These components are rich in amino acids and are safe and natural moisturizing oils with a long list of benefits. The essential vitamins present in Jojoba oil help to greatly reduce wrinkles and the visible effects of aging.
Main Components
Kona Coffee Extract
As a source of caffeine, Kona Coffee promotes blood circulation, which leads to healthy energized skin. It protects against harsh sun rays and leaves the skin soft and supple with no irritation.
Kona Coffee Oil
This helps to restore skin elasticity, to soften and hydrate skin. It helps to fight the signs of ageing and prevents wrinkles and other age spots, by stimulating the growth of collagen and elastin.
Sweet Almond Oil
Almond oil is light in texture, and can easily penetrate deep into the skin and has anti-ageing benefits. It can be safely used on sensitive skin.
Jojoba Oil
This component is rich in amino acids and is a safe and natural moisturizing oil with a long list of benefits. The essential vitamins present in Jojoba oil help to greatly reduce wrinkles and the visible effects of ageing.
Argireline
This anti-ageing component known as «Botox in a bottle» has properties that inhibit the reactions that cause the muscles of the face to twitch. Argireline helps to preserve the existing elastin and collagen in the skin of the face.
Hyaluronic acid
This component has many benefits and is one of the most important ingredients in skin care. It helps to improve elasticity and fight against skin ageing. Hyaluronic acid plays an important role in skin health with its unique ability to hold in moisture.
Marine Collagen
Marine Collagen is derived entirely from fish collagen. This component is rich in amino acids, improves skin hydration and firmness.
Vitamin E (tocopheryl acetate)
Vitamin E is known for its antioxidant properties, which helps to prevent damage to skin caused by free radicals from UV exposure.
Acai berries
The small and purplish-red berry originates in South and Central America called "The beauty berry". Acai berry is high in antioxidants working to fight the cell-damageing free radicals, which damage and age the skin and helps to maintain young and radiant skin.
Vitamin С (3-O-Ethyl Ascorbic Acid)
Vitamin C helps to even out skin tone, by shielding skin from the visible impact of pollution, significantly improving hydration, and keeping your skin looking younger.
Aloe Vera
Aloe Vera is an incredible plant, which has a beneficial effect on the skin. It is effective in wrinkle treatment, by improving collagen production and skin elasticity.
Vitamin А (retinyl palmitate)
Vitamin A penetrates deeply in skin where it stimulates collagen production, reducing the appearance of fine lines and wrinkles.
Extract of chamomile flowers
Chamomile not only reduces inflammation, but also cleanses and moisturizes the skin while soothing irritation.
Laminaria Extract
This component helps to eliminate toxins from the skin, by bringing about a long lasting glow, giving the skin a healthy and even looking tone and preventing skin pigmentation and skin discolouration.
Ingredients
Aloe Barbadensis Leaf Juice, Prunus Amygdalus Dulcis (Sweet Almond) Oil, Glycerin, Simmondsia Chinensis (Jojoba) Seed Oil, Soluble Collagen, Stearic Acid, Dimethicone, Coffea Arabica (Coffee) Seed Oil, Sorbitan Stearate, Water, Phenoxyethanol, 3-O-Ethyl Ascorbic Acid, Carbomer, Cetyl Alcohol, Triethanolamine, Caramel, Glyceryl Stearate, PEG-100 Stearate, Caprylyl Glycol, Ethylhexylglycerin, Allantoin, Hexylene Glycol, Squalane, Tocopheryl Acetate, Retinyl Palmitate, Leuconostoc/Radish Root Ferment Filtrate, Euterpe Oleracea Pulp Powder, Sodium Hyaluronate, Myristyl Alcohol, Stearyl Alcohol, Coffea Robusta Seed Extract, Tocopherol, Anthemis Nobilis Flower Extract, Laminaria Digitata Extract, Potassium Sorbate, Acetyl Hexapeptide-8, Trisodium EDTA.
How to use
Place a small amount of cream onto your fingers and apply around and under the eyes utilizing a light massage motion. Do not apply directly into the eyes.
Close jar tightly after each use.
How to buy Privilege Repairing Eye Cream?
Acquisition of products is possible using a special discount card.
Registration of discount card
Please carefully read the terms of registration using the referral link:
Clicking this link, you confirm your desire to join Coral Club in Liga Rymer's structure, who becomes your consultant/sponsor;
By clicking on this link, you confirm your desire to receive information about the company's products, the concept of health of its application and the principles of the company's work in English.
I agree
Registration form
After registration, you receive the number of the discount card, which will give you a 20% discount (for an unlimited period of time) for all products, purchasing in one of the Coral Club stores or on the Internet.
You can contact us for the consultation.
DIETARY SUPPLEMENTS IS NOT INTENDED TO DIAGNOSE, TREAT, CURE, OR PREVENT ANY DISEASE.