Published on 12.07.2017
Last updated on 09.06.2022
Visi Prime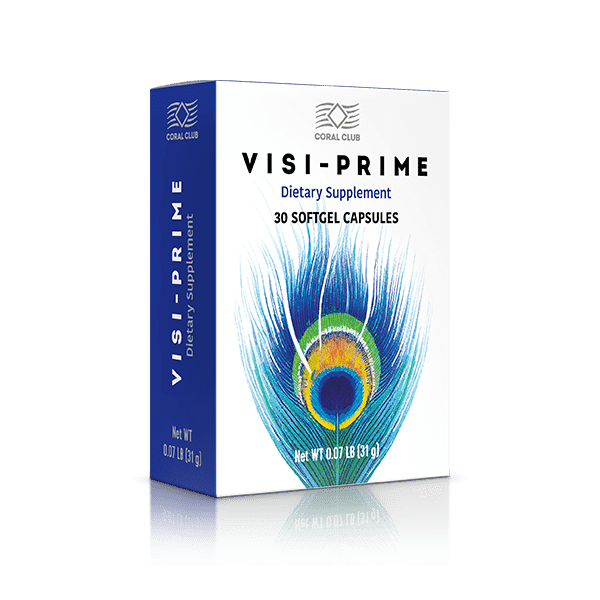 "Visi Prime" is a full range of substances for maintaining eye health and safe and effective prevention of any problems that arise with organ. The product will help to remedy the lack of important vision nutrients.
Benefits of Visi Prime
Vitamins and minerals for healthy vision;
Helps to reduce eye fatigue due to reading or working with computer for long periods of time;
Helps to slow down the age-related loss of vision.
The action of the active ingredients
Polyunsaturated Fatty Acids Omega 3 help to prevent dry eye symptoms, the development of inflammatory processes and to benefit overall eye health.
Lutein and zeaxanthin are two types of carotenoids (yellow to red pigments found widely in vegetables and other plants) with antioxidant properties that help to protect eye cells from UV induced damage, prevent the retinal degeneration due to aging or the influence of the external factors.
Vitamins B2, E and Zinc help to decrease the risk of cataracts and age-related macular degeneration.
Ingredients
Fish oil 500 mg (Omega 3 300 mg; DHA 250 mg; EPA 30mg); Vitamin E 18 IU; Vitamin B2 1.4 mg; Zinc 10 mg; Lutein 10 mg; Zeaxanthin 2 mg; other ingredients.
How to use
Take one capsule daily, or as recommended by your healthcare practitioner.
How to buy Visi Prime?
Acquisition of products is possible using a special discount card.
Registration of discount card
Please carefully read the terms of registration using the referral link:
Clicking this link, you confirm your desire to join Coral Club in Liga Rymer's structure, who becomes your consultant/sponsor;
By clicking on this link, you confirm your desire to receive information about the company's products, the concept of health of its application and the principles of the company's work in English.
I agree
Registration form
After registration, you receive the number of the discount card, which will give you a 20% discount (for an unlimited period of time) for all products, purchasing in one of the Coral Club stores or on the Internet.
You can contact us, if you have any questions.
DIETARY SUPPLEMENTS IS NOT INTENDED TO DIAGNOSE, TREAT, CURE, OR PREVENT ANY DISEASE.