Published on 11.07.2017
Last updated on 15.03.2018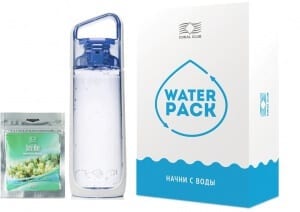 Water Pack Nr.1 includes the mineral complex Coral-Mine (30 sachets); a KOR Delta 750 ml water bottle and a z-card with useful information on how to add energy to your life. Coral-Mine based on deep-sea coral and used to condition water. The KOR Delta water bottle is an innovative, easy to use, hydration vessel that is made from an ecologically friendly material.
Ingredients
Coral-Mine is a mineral composition that is made of deep-sea coral. It softens water, has a positive impact on the body's mineral composition and improves various properties of water.
The KOR Delta hydration vessel is a combination of art and science, style, and design. The bottle has an array of innovative functionality. For example, the cap opens with a simple push of a button, the ergonomic grip; a convenient spout and a locking mechanism that prevents accidental opening.
Kor Delta bottles are available in different colors!
How to buy the products?
Acquisition of products is possible using a special discount card.
Registration of discount card
Please carefully read the terms of registration using the referral link:
Clicking on this link, you confirm your desire to join the Coral Club in structure Aiga Finstere, which becomes your Referee/consultant;
By clicking on this link, you confirm your desire to receive information about the company's products, the concept of health of its application and the principles of the company's work in English.
I agree
Registration form
After registration, you receive the number of the discount card, which will give you a 20% discount (for an unlimited period of time) for all products, purchasing in one of the Coral Club stores or on the Internet.
You can contact us, if you have any questions.