Published on 04.07.2017
Last updated on 08.06.2022
Emu Oil with Tea Tree Oil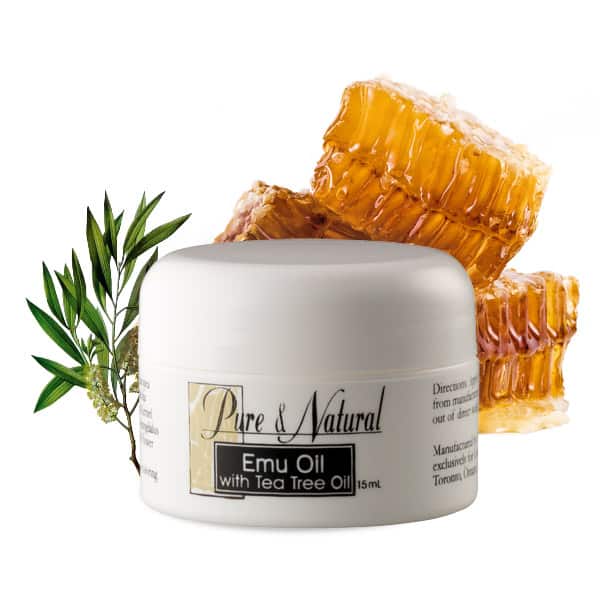 A skin balm "Emu Oil with Tea Tree Oil", vitamin E, and other components of natural origin is called the healing product for a reason. Due to its high penetrating ability, Emu Oil transports all components of the balsam to the deep layers of skin, increasing their useful properties.
Skin balm benefits
Specially selected composition improves local blood circulation, relaxes muscles, and promotes the healing of wounds and skin regeneration, it helps to heal various burns (thermal, chemical, and solar). Prolonged use of balsam helps to normalize the secretion of sebaceous glands, to improve the structure and appearance of skin. Tea Tree Oil and Calendula are used in beauty therapy as anti-inflammatory, disinfectant and wound-healing ingredients that have a positive effect on dermal skin irritation and inflammation.
Tea Tree Oil is the oil that heals. Due to its healing properties, the oil is perfect for the treatment of burns, cuts, insect bites, acne, and herpes. It also alleviates fatigue, softens and nourishes the skin, improves elasticity of capillary walls, improves blood circulation, eliminates swelling, and varicose veins.
Beeswax, a part of the balsam, is well absorbed by the skin giving it a smooth and soft look. The wax is useful for the skin as it is close in its composition to a number of sebum components. It promotes the formation of waxy film on the skin, thereby preventing it from dehydration.
Vitamin A and carotenoids have a positive impact on the regeneration of epithelial tissue.
Vitamin E, the "vitamin of beauty", protects the skin against free radicals and prevents it from premature aging and the formation of wrinkles. It supplies the skin with oxygen and moisture ensuring its freshness and elasticity.
Sprouted wheat, almond and apricot oils are the source of unsaturated fatty acids, minerals, vitamins, and other nutrients. In combination with Emu Oil, they reduce irritation and inflammation; plus have an excellent soothing, moisturizing and regenerating effect.
Ingredients
Oryza sativa (Rice) Bran Oil, Olea Europea (Olive) Oil, Beeswax, Emu Oil, Melaleuca Alternifolia (Tea Tree) Leaf Oil, Pranus Armeniaca (Apricot) Kernel Oil, Triticum Vulgare (Wheat) Germ Oil, Prunus Amygdalus Dulcis (Sweet Almond) Oil, Calendula Officinalis Flower Extract, Tocopheryl Acetate.
How to buy Emu Oil with Tea Tree Oil?
Acquisition of products is possible using a special discount card.
Registration of discount card
Please carefully read the terms of registration using the referral link:
Clicking this link, you confirm your desire to join Coral Club in Liga Rymer's structure, who becomes your consultant/sponsor;
By clicking on this link, you confirm your desire to receive information about the company's products, the concept of health of its application and the principles of the company's work in English.
I agree
Registration form
After registration, you receive the number of the discount card, which will give you a 20% discount (for an unlimited period of time) for all products, purchasing in one of the Coral Club stores or on the Internet.
You can contact us, if you have any questions.
DIETARY SUPPLEMENTS IS NOT INTENDED TO DIAGNOSE, TREAT, CURE, OR PREVENT ANY DISEASE.