Published on 25.07.2022
Last updated on 25.07.2022
Memo-Prime – maintaining cognitive functions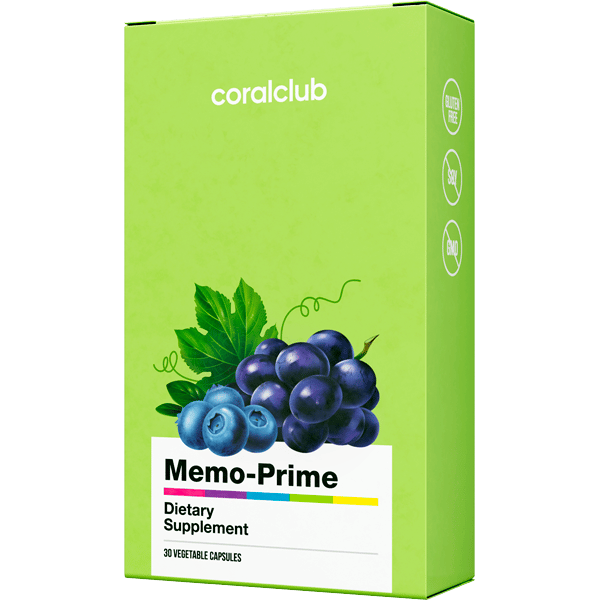 Memo-Prime help improve memory and concentration, which contributes to more effective intellectual activity. The product contains the Memophenol™ complex which made from French Grape and Wild Canadian Blueberry extracts is rich in various polyphenols that have a positive effect on memory and concentration. The formula is enriched with B vitamins and green tea extract, which is high in polyphenols and known for its tonic effect.
Benefits of Memo-Prime
Helps improve memory and concentration;
Supports brain function at times of increased mental stress;
Prolongs active longevity.
Memo-Prime is an irreplaceabledaily SOURCE OF support for those who:
aim to be highly productive;
multitask and have difficulty concentrating;
spend a lot of time on the phone/computer, watch fast-paced videos;
are studying for exams, building a career, and/or learning new skills;
notice a decline in memory with age/over time;
want to preserve cherished memories.
The action of the active ingredients
The patented Memophenol™ complex
The natural components found in Memophenol™ act in synergy, therebyenhancing each other's positive effects.
The extract of French Pinot Noir and Chardonnay grapes from the Champagne region enhances concentration;
Canadian wild blueberry extract helps correct memory problems.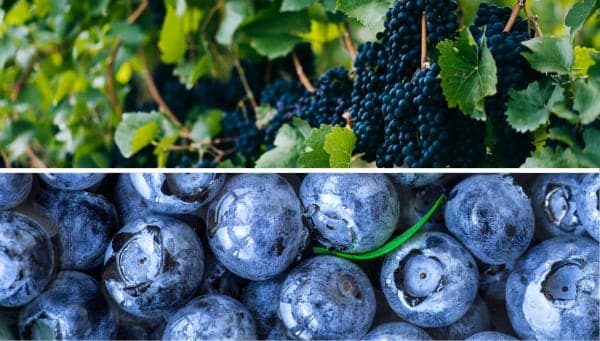 The Memophenol™ complex was developed by scientists in France and Canada based on observations of the beneficial effects of polyphenols on the state of short-term and long-term memory and learning ability. In 2017, Memophenol™ was named "Best Ingredient" at the NutraIngredients Awards in the "Healthy Aging" category.
Research confirms the positive impacts Memophenol™ has on cognitive function
A randomized, double-blind, placebo-controlled study shows that:
regularly taking Memophenal improves episodic memory (the memory of events in a person's life, their place and time, as well as the emotions associated with them);
even a single dose increases working memory and attention during a demanding mental task.
Memophenol™ is particularly useful for college students and schoolchildren subject to high mental stress, as well as elderly persons with signs of age-related decline.
Green tea extract
Rich in plant polyphenols catechins: contains 95% epigallocatechin gallate (EGCG). Catechins are antioxidants and are involved in the formation and restoration of neurons, affecting the development of short-term memory into long-term memory.
Green tea extract is a natural memoryand attention booster:
protects the brain from premature aging;
improves blood circulation and stimulates the brain;
builds stress tolerance.
B vitamins (B6, B9, and B12)
Memo-Prime is also enriched with group B vitamins that take care of cognitive abilities:
support a healthy nervous system;
provide adequate energy for the day;
improve blood flow to the brain.
These vitamins support the nervous system and help enzymes to release energy from carbohydrates and fats, break down amino acids, and transport oxygen and energy-containing nutrients throughout the body. This helps support our energy level throughout the day. These B vitamins help reduce the effects of stress and stimulate the brain by boosting production of neurotransmitters, which help deliver messages between the brain and body. The proprietary ingredients: Folic Acid Extrafolate-S® (Vitamin B9), Pyridoxal 5-Phosphate (Vitamin B6), and Methylcobalamin (Vitamin B12), are bioactive forms of vitamins that are highly bioavailable and easily absorbed by the body.
The best B vitamins for optimal absorption
B12 — Methylcobalamin:
supports cognitive abilities;
helps prevent anemia;
improves concentration and memory, and increases thinking ability.
B6 — pyridoxal-5-phosphate:
helps improve mood, sleep, and memory.
B9 — Extrafolate-S™:
has a positive effect on the growth and development of all tissues;
supports the cardiovascular system.
Ingredients
Memophenol™ (French grape (Vitis vinifera L.) fruit extract Wild blueberry (Vaccinium angustifolium A.) fruit extract): 300 mg.
Green tea (Camellia sinensis) leaf extract: 50 mg.
Vitamin B12 (Methylcobalamin): 2,3 mg.
Zinc (as zinc oxide from capsule shell): 2 mg.
Vitamin B6 (Pyridoxal 5-phosphate): 3 mcg.
Folic Acid (L-Methylfolate Ca as Extrafolate-S™): 100 mcg.
Other ingredients: capsule (hydroxypropyl methylcellulose), anti-caking agent magnesium salts of fatty acids, anti-caking agent tricalcium phosphate.
Extrafolate S is a registered trademark of Gnosis S.p.A., Italy.
Memophenol is a registered trademark of Activ'Inside, France.
How to use
Adults take 1 capsule a day in the morning or in the middle of the day with meals.
Country of production
Slovenia
How to buy Memo-Prime?
Acquisition of products is possible using a special discount card.
Registration of discount card
Please carefully read the terms of registration using the referral link:
Clicking this link, you confirm your desire to join Coral Club in Liga Rymer's structure, who becomes your consultant/sponsor;
By clicking on this link, you confirm your desire to receive information about the company's products, the concept of health of its application and the principles of the company's work in English.
I agree
Registration form
After registration, you receive the number of the discount card, which will give you a 20% discount (for an unlimited period of time) for all products, purchasing in one of the Coral Club stores or on the Internet.
You can contact us for the consultation.
DIETARY SUPPLEMENTS IS NOT INTENDED TO DIAGNOSE, TREAT, CURE, OR PREVENT ANY DISEASE.